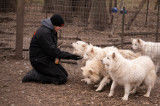 Barbara Kavars, of Manly, Iowa, who was found guilty of 14 counts of animal neglect in October, has filed an appeal.
Kavars was sentenced to two years of supervised probation with 420 days in jail, 30 days for each of the 14 counts, suspended.
She was also prohibited from owning and breeding any dogs and can only own one cat during her probation. Additionally, she must also undergo a mental health exam with possible treatment, dependent on the exam results and pay a $65 fine on each count, for a total of $910.
The notice of appeal says she was forced to sign a relinquishment agreement after being threatened by deputies, and was also induced to sign by being told nine dogs and four cats would be allowed to stay; proof of Kavars' allegations is recorded on body cams of officers on the scene and were submitted as exhibits in the original hearing, according to the appeal.
Other items on the appeal include:
• The court concluded the ASPCA officer on the scene was not working on behalf of the state, even though trial exhibits say otherwise and an agreement was authorized by the courts to allow the ASPCA to assist Worth County Sheriff's officers in executing a search warrant on Kavars' home.
• The judge restricted Kavars's testimony to place in contention her consent to the relinquishment agreement.
• The sentence imposing 240 days even though suspended is extreme based on Kavars's personal history, her requests to the humane society for help and her cooperation in voluntarily reducing the animals in her care.
North Iowa Humane Society took on more than 300 Samoyeds from the property; some of them didn't survive. They're unhappy with the news of the appeal.
"Just when you think you can close the chapter on what has been a long and emotional story for over 300 rescued Samoyeds ... the book is flung back open by the breeder who refuses to take any responsibility," they wrote in a Facebook post sharing the news of the appeal.
Get local news delivered to your inbox!
Subscribe to our Daily Headlines newsletter.