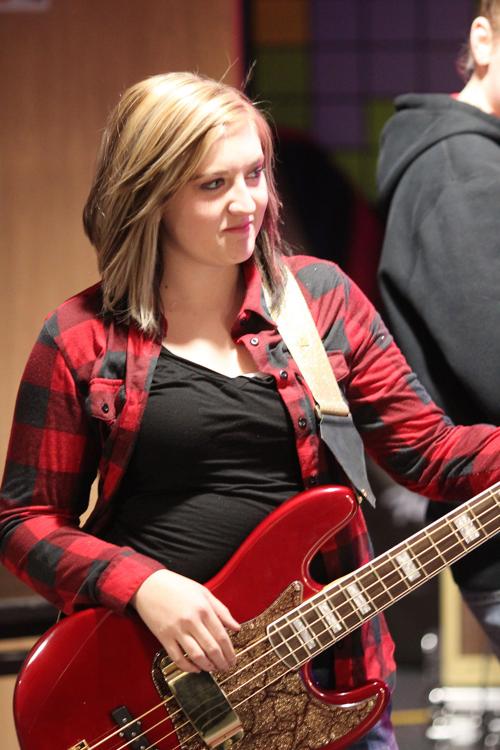 FRUITLAND, Iowa — With local, regional, state and even national pageant titles to her name, one would never guess that Cloey Johnson, of Fruitland, suffered from a severe case of stage fright when it came to performing. Yet that was exactly what led her to where she is today — as the bass player in a blues band preparing to participate in the International Blues Challenge, a world-class showcase spotlighting the best of up-and-coming talent in Memphis, Tennessee.
"I was scared to perform in front of people," Cloey said, "including my parents. My mom insisted I go to a Rock Camp to try and get over my stage fright."
Cloey's mom, Dawn Schultheis, couldn't believe that after 13 years of being actively involved in pageants, Cloey would still have this fear.
"It's crazy. She just gave up a national title in November. She can walk across a stage in gowns and swimsuits and not be bothered a bit. But she just couldn't play or sing in front of other people."
Schultheis hoped that the Rock Camp held in August of 2015 at the River Music Experience in Davenport would be just the therapy Cloey needed to conquer her fear of performing.
Fear may have led her to the camp, but at the camp, Cloey picked up a bass guitar for the first time, learned to play, performed in front of others, and left her fear behind. She also met Juliana Logan, a junior at Davenport Central High School, and founder of the blues band Juliana & a Soul Purpose.
"We were just getting our group started and we needed a bass player," Juliana said. "So I asked her if she wanted to audition."
As it turns out, the audition was more of an invitation. The girls clicked at the Rock Camp and Juliana told Cloey if she wanted to learn the music, they had a spot for her in the band.
Juliana & a Soul Purpose Band is comprised of seven teens, all coming from different directions to rehearse and perform, and still rely heavily on the support of their parents to get them there. Their musical style is a blend of blues, funk, rock and soul. Juliana is the lead vocalist and songwriter; Matt Fuller is a junior at North High School and guitarist; Nick Dicklin is a home schooled student from Galena, Illinois and guitarist with the band; Matt Dilulio is the band's drummer and a senior at Alleman High School in Rock Island; Ethan Good, a student at Pleasant Valley is on the keyboards; Haley Teel, another home schooled student from New Windsor, Illinois is a vocalist and plays the tambourine; and Cloey, the youngest member of the group, is a sophomore at Louisa Muscatine High School.
Each student has a different story of how they became involved with the band and the Blues genre of music in general. And each student brings their own skill set and passion, which has led to the invitation to perform at the 32nd annual International Blues Challenge, an event that brings in Blues bands from all over the world. According the the official website, blues.org, each band invited to play will be performing for representatives from record labels, media outlets, festivals, managers, talent buyers, and Blues enthusiasts.
The band is excited to be attending and performing at this showcase, and they have hopes that it will lead to something bigger in their music career. They also hope to bring an interest in the Blues genre to their own generation.
"We want people to know that the blues isn't dead," stated Matt Fuller.
He grew up learning the Blues from his grandfather who was also involved in an award-winning band.
"Even though we are just kids, the blues is in pretty good hands," he added.
No matter what happens, the group hopes to put on a good show.
"We are gonna give it everything we've got and put our hearts out there," Juliana said.
As for Cloey, she will be doing something she didn't think was possible even a few short months ago. She'll be playing with her heart and soul, minus the fear.
The contest takes place Jan. 26-30. For band updates, can follow their Facebook page, Juliana & a Soul Purpose, or visit their website, ASoulPurposeBand.com.