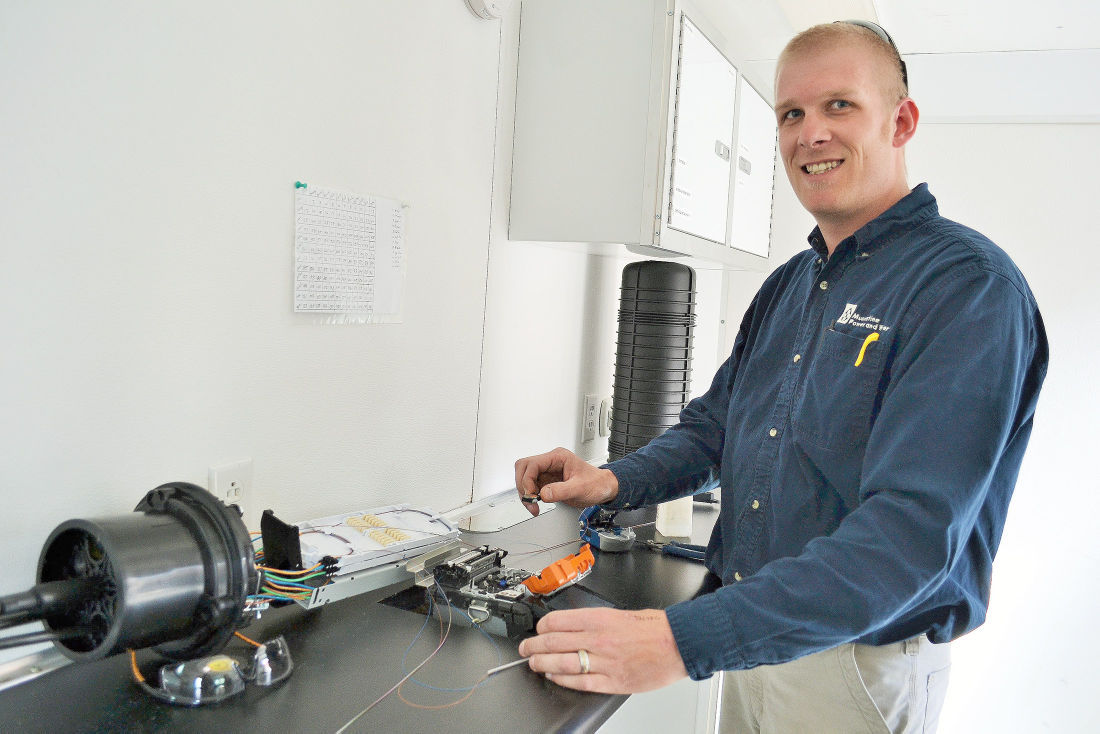 MUSCATINE, Iowa — Imagine Internet speeds capable of downloading 12 TV shows, 900 songs and one High Definition movie in 36 seconds.
Muscatine Power and Water officials say it is possible and they have a plan to make surfing the web a better experience by increasing Internet speeds and a switch from coaxial cable wiring to lightning-fast fiber-optic cable by the end of 2017.
In April, all residential and business class MPW MachLink Internet subscribers will be bumped up from their current service to the next level of internet speed — at least doubling their current speed — at no additional charge. And that is just the start of the path to the fastest internet available. In 2017, all MPW customers will be converted to one gigabit fiber wiring though the municipal utility's Fiber to the Home project.
"A one gigabit fiber connection is around 200 times faster than our most popular current residential speed and 1,000 times faster than a one megabit DSL connection," said Erika Cox, MPW employee and community relations director. "So if you think what you have now is fast, just wait until you experience fiber!"
April 2016 speed increase
Cox said that as a courtesy to MachLink users, MPW is automatically implementing a free upgrade. That means if a customer is currently on the $45.99 per month Turbo plan (5 Mbps), they will be upgraded in April to MPW's Nitro plan (10Mbps), a $55.99 value, at no additional charge. Any customer currently on a MachLink plan will be bumped up to the next level, even Xtreme 50 (50 Mbps) customers paying $95.99 per month for internet will see their download speed doubled.
"This is a customer appreciation initiative," Cox said, adding that the changes will be made as early in April as possible.
Cox noted trends such as the consumer's need for more bandwidth, families adding more devices and use of ever-growing content have been the motivator for MPW to cater to the community's needs. MPW will be in contact with its customers prior to the changes being made, she added.
The goal for complete fiber optic conversion is the end of 2017 and many things have to take place before fiber hits every neighborhood. The system is currently in the design phase, but it won't be long before MPW is contacting home owners to update them on the future construction. That includes bringing fiber lines to the residence, installing network interface devices outside the home and optical network terminals inside, according to Beecher Sykes, manager of telecommunications. MPW said it is "not anticipating" a cost to the user for initial construction.
There will be "massive amounts of manpower out there," Sykes said describing the undertaking that MPW is committed to. While there is some fiber in place throughout the community, there will be multiple construction areas in different parts of the city and multiple crews working to achieve a timely, problem-free transition.
Cox said that it is important to MPW to keep in touch with customers about upcoming changes, construction and the benefits of the increased internet speeds that will be taking place over the next several months.
"The initial customer cutover should start late 2016 and the bulk in 2017 and hopefully be completed in 2017," Cox said.
Muscatine will be on the cutting edge of Internet speed as most communities its size do not offer such services. Typically, only metropolitan areas with a large customer base can offer fiber. Cox said that because MPW is a public utility it is able to make the nearly $9 million investment to convert from coaxial to fiber optic.
Cox said that while pricing and packages are still being developed, MPW is not expecting prices to increase from the level of service because of fiber.
"If you have 50-meg service the price will likely remain the same. If speeds are higher than what we offer now, prices will increase appropriately," Cox added.
The user will notice the difference in speed from their current internet abilities.
"For example, if downloading 10 photos takes 13 seconds now, with one gigabit per second, you could download 1,000 in just 16 seconds, or 10 full-length feature films in seven minutes, which now takes about two and a half hours to transfer one," Cox said.
MPW's Internet speed has come a long way since 1997, when it offered 768 kilobits, considered high-speed Internet at that time. Sykes said that there are many advantages using fiber.
Fiber is the diameter of a human hair and transmits light. It is more reliable, faster, requires less maintenance and the speeds are virtually unlimited, Sykes said.
He added that fiber allows MPW and Muscatine to remain competitive
"(Fiber is) an extreme benefit not only to customers but the community as a whole," Beecher said.