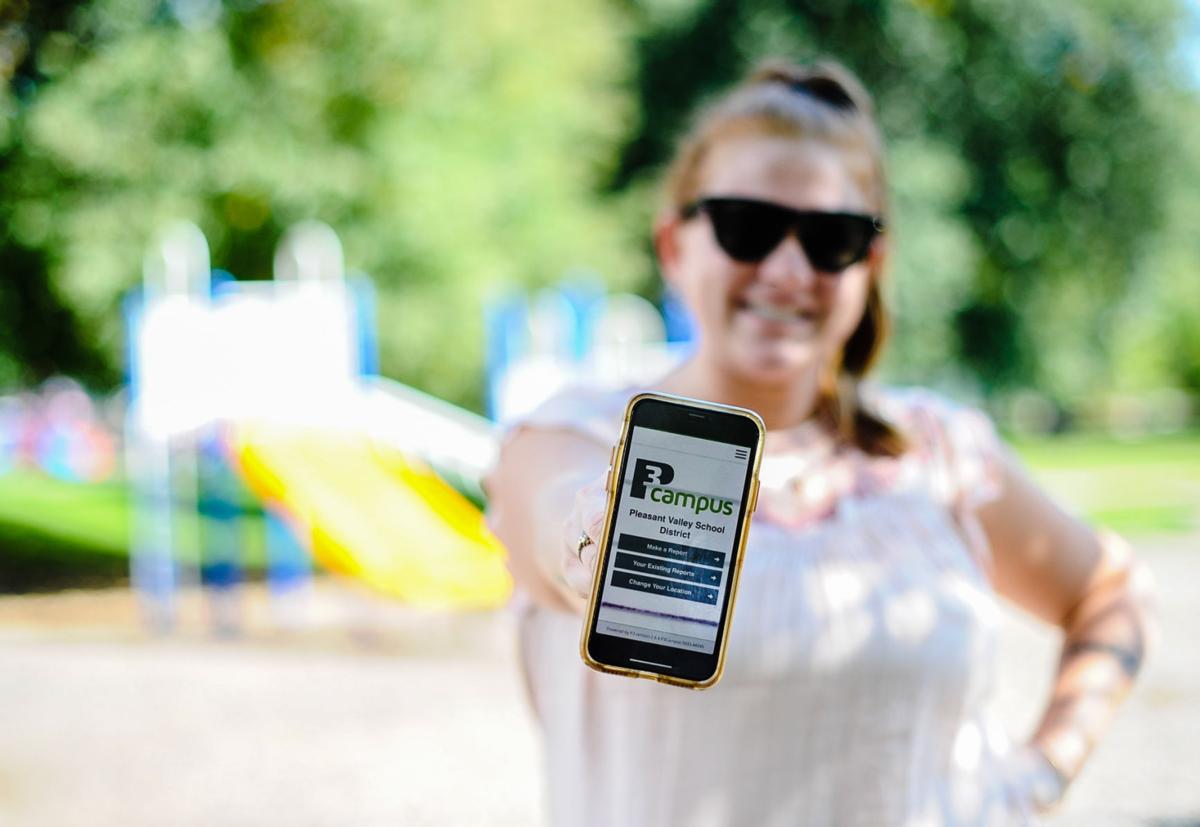 Quad-Cities area schools are promoting a free mobile app that law enforcement officials say will make reporting and investigating crime and safety concerns easier.
Detective Jon Leach, Crime Stoppers of the Quad-Cities police coordinator, said every area school district is signed up to use the mobile app P3 Campus. Downloadable through the Apple App Store and Google Play, the free app lets users submit tips anonymously via cell phone or online at p3campus.com.
Leach said local law enforcement has received tips through the community-focused app, P3 Tips, for about 14 months. The two apps were created by Anderson Software in Texas.
Leach estimated it cost $11,000 to $12,000 to launch the P3 Campus app at area schools for this initial year. The schools can connect to the P3 Campus app for free because of funding by the Doris & Victor Day Foundation. More funds will be raised during a Dec. 28 raffle for a Ford Mustang provided by Sexton Ford, he said. 
Users can choose from about 50 reporting options, he said, including school shootings, sexting, vehicle theft, domestic violence or planned parties, fights or school attacks. They also can report someone who is unresponsive or unconscious or someone with eating disorders or suicidal threats.
The P3 website states the most common reports are suicide threats, bullying/cyberbullying and drugs on campus. P3 Campus is now being used at nearly 5,800 U.S. schools.
P3 Campus users are asked to describe a concern or event and identify the people involved by first and last name, grade, gender and race. Users can also report the person's social media handles and other details.
Users are assigned a TIP ID and password so they can log in to submit follow-up information, participate in real-time chats or learn about tip outcomes.
The tips go straight to a specific school district's administration and resource officer — "boots on the ground at the location," Leach said.
Having people submit tips through P3 or P3 Campus is often significantly more helpful, he said. Users can upload photos and law enforcement can ask follow-up questions, all while maintaining a source's anonymity. 
School resource officers and district staff are trying to educate people about the P3 Campus app, Leach said.
"We've averaged one to two crimes solved the last few years in Crime Stoppers. Now we're at 12 to 16 a month in solving crimes," he said. "I think sometimes people get apprehensive as far as calling in; (they think) maybe cops can trace the number or recognize their voice."
Detective Kirk DeGreve, school resource officer at United Township High School in East Moline, said students sometimes are concerned about reporting concerns at school.
"I still get kids to come in the office to tell me stuff through face-to-face reporting," he said. "Sometimes kids don't want to be seen as a snitch. They can download the app and send a tip that way anonymously."
DeGreve said Leach approached UTHS and East Moline school officials last year about relaunching Crime Stoppers programs in the districts. The program had been around, DeGreve said, but was underutilized.
The new program kicked off last January, with DeGreve promoting the P3 app through posters. This fall he continues to promote both apps and to encourage teachers to discuss them with students.
The nice thing about P3 Campus, he said, is when someone uses the app to report tips regarding UTHS, UT-Tech, East Moline grade schools or Northeast Junior High in Silvis, the tips go directly and "almost instantaneously" to him and fellow East Moline officers Lt. Jeff Ramsey, criminal investigations commander, and Detective Greg Jones, school resource officer for East Moline School District.
DeGreve said he hopes more people download and use the app. UTHS' school year began with lock downs Aug. 17 and Aug. 23 due to external threats. DeGreve said the P3 apps were not used in the matter, partly because there were only two people involved. Usually if something happens, he said, more people are involved. 
In late February, Crime Stoppers Board President John Bell discussed P3 Tips with Moline-Coal Valley school board members.
At that time, Bell said Crime Stoppers received 440 tips through the P3 app from November to February, resulting in 34 arrests. That compared to 497 tips and 34 arrests in a 10-month span before P3, he said.
Scott County Deputy Chad Weipert, school resource officer for Pleasant Valley School district, said the app is newly in use at Pleasant Valley.
Pleasant Valley parents received letters about the app on Monday. The letter explains that junior-high and high-school students as well as parents can make anonymous reports about safety concerns or student wellness with the app. Each report will be sent to and addressed by school administrators and the school resources officer.
According to a spokesperson for Bettendorf School District, Bettendorf schools also are moving toward using the app, but haven't implemented it yet. A spokesperson for the Davenport School District said administrators are aware of the app, but have not discussed using it. The North Scott School District is considering using one of two apps.
Reporter Linda Cook contributed to this story.
Get local news delivered to your inbox!
Subscribe to our Daily Headlines newsletter.