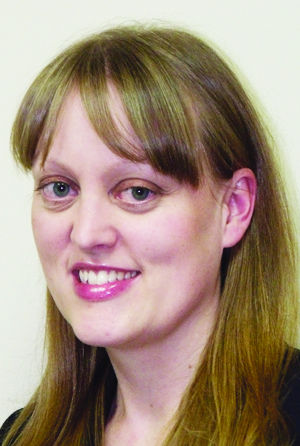 A new local lawyer is finally doing what she's wanted to do for a long time: help people navigate the sometimes tricky waters of immigration law
---
MUSCATINE, Iowa — Summer Allchin has known for a long time that she wanted to practice immigration law.
But things weren't always that way.
Early on in her career, during a decade working for a human rights organization in Washington, D.C., she didn't even want to be a lawyer.
Eventually, the scales of justice tipped the other way and today, she works as an immigration attorney.
Now, after five years as an immigration attorney in Minneapolis, the Letts resident and graduate of Louisa-Muscatine High School gets to practice her passion right in her backyard, from an office at 1500 Plaza Place in Muscatine.
"I love what I do," she said Monday. "This is the only kind of law I want to practice."
Another motivation, she said, is that she wants to help immigrants who may be taken advantage of by some attorneys who charge clients for services they didn't provide —  clients who are largely undocumented workers who can be afraid to claim their rights.
Allchin, 33, established her local practice in March to be closer to her family and that of her husband, Tyson. The couple have two children, ages 2 1/2 and 3 1/2 months.
"We'd come for visits, and it got harder and harder to say goodbye," she said. "We were tired of the big-city lifestyle, and my husband was really tired of the traffic."
Allchin, a graduate of Augsburg College in Minneapolis and the University of Iowa Law School, said she attended law school specifically to practice immigration law, which she labeled one of the most complicated of legal disciplines.
"Even tax lawyers will tell you immigration law is complicated," she said.
One reason for that, she said, is that officials administering immigration cases have "a lot of discretion. That can be great, or it can be frustrating."
She said much of her work to date has centered on people seeking asylum because they are at risk of being injured or killed if they're returned to their country of origin.
If Congress gave her a magic wand, she'd abolish the one-year deadline asylum-seekers have, she said, and she'd pass the DREAM Act (Development, Relief and Education for Alien Minors), a 2001 legislative proposal now called "deferred action" after the Obama administration passed an executive order enacting many of the DREAM Act's provisions.
"It's a step in the right direction," she said.
She'd also work to speed up the clock for certain people seeking citizenship. According to a monthly bulletin issued by the federal government, some categories of Filipinos eager to learn if they'll ever become U.S. citizens have been waiting for their decision since 1989; some from Mexico since 1996.
While some Americans may argue that immigrants "have to wait in line," Allchin offers this rejoinder: "Some people don't have a line to get into."
Many immigration attorneys speak Spanish almost as a precursor to working with the Hispanic community, but Allchin does that one better: Besides Spanish, she's also fluent in Norwegian, a language she picked up through a high school immersion program. She got a scholarship to attend the program through a grant from the Carver Foundation, then majored in Nordic area studies and international relations in college.
Having a third language even paid off once, on the occasion when Allchin was  called on to help a woman who spoke only her native tongue and Norwegian.
Allchin said she's enjoyed her fair share of happy endings during her time practicing immigration law. A Somali woman living in Minneapolis was reunited with her birth mother.
Allchin helped arrange for the woman to live with her daughter in the Twin Cities for a time.
"I love helping people," she said, "and I'm sad when I can't."