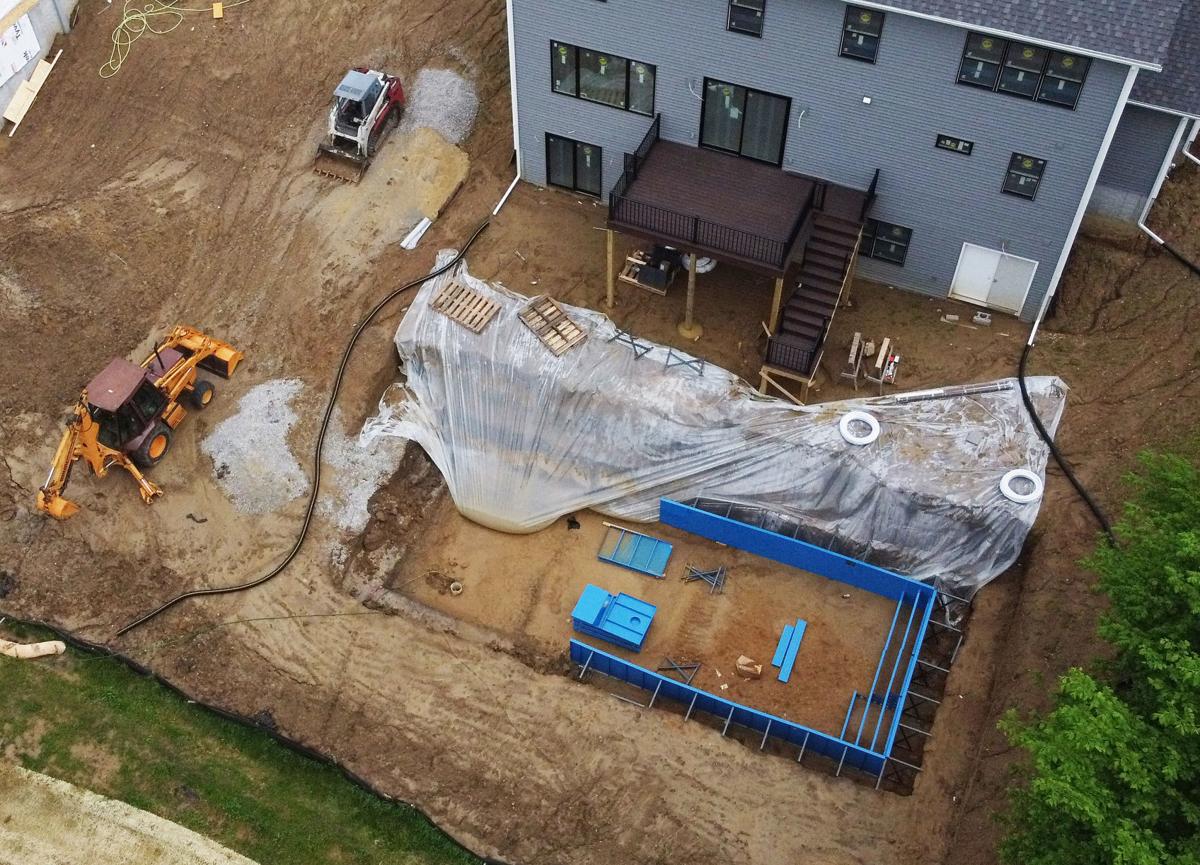 Closed city pools and canceled vacation plans are placing a high demand on backyard swimming pools in the Quad-Cities.
Public pools in Davenport and Moline are closed for the season because of challenges meeting social-distancing demands related to the COVID-19 pandemic. Decisions about summer pool operations in Bettendorf and Rock Island are pending.
Meanwhile, many Quad-City homeowners are taking summer recreation into their own hands, ordering in-ground and above-ground swimming pools and snatching up do-it-yourself models from store shelves.
"This is the busiest I've been for this point in the season in 10 years," said Rick Hixson, a salesman for Sentry Pool, Moline. "A lot of the people calling are saying they're just going to do things at their own house this summer.
"I'm booked solid (on estimates) for the next three weeks."
Brandon Logue's family in Bettendorf ordered their new in-ground pool ahead of the rush.
"We recently moved, and we used to have a neighbor with a pool, and we always swam over there," said Logue, who has three young children. "It's the only thing that wears our kids out."
He now realizes the investment was well-timed, adding his family will have to consider how many guests they can safely accommodate, given the likelihood his backyard will be a popular place in the neighborhood.
While the 6-foot social-distancing guidelines remain in place and public health officials continue to recommend limiting gatherings to small groups, swimming pools themselves have been deemed safe.
The website for the Centers for Disease Control & Prevention, or CDC, specifically addresses swimming safety.
"There is no evidence that COVID-19 can spread to people through the water used in pools, hot tubs or water playgrounds," the CDC's website states. "Proper operation and disinfection of pools, hot tubs and water playgrounds should kill the virus that causes COVID-19.
"Limit close contact with people outside your home in public spaces, both in and out of the water."
Several Quad-City pool and spa distributors have posted the CDC's statement on their websites, and they say people are taking notice.
While in-ground pools take longer to build, especially with high demand, the above-ground market could soon face some delays, too.
"It's rare to run out of pools entirely, but inventory is already getting low," said Randy Gebhardt, owner of Central Pool Supply, Moline. "We're getting by as a distributor, but there's a high demand right now."
One problem, Gebhardt said, is pool liners for above-ground pools are made in New York, and manufacturing was shut down because of the pandemic.
"I think a lot of people who had a summer vacation planned have probably canceled," he said. "A pool is a vacation in your backyard."
Concerned about COVID-19?
Sign up now to get the most recent coronavirus headlines and other important local and national news sent to your email inbox daily.