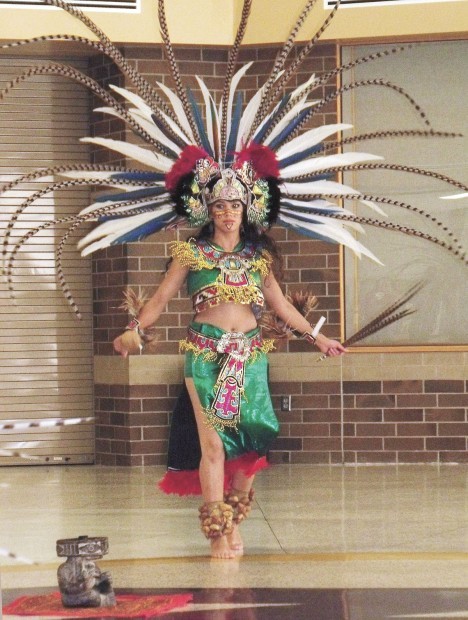 MUSCATINE, Iowa — When Christopher Columbus landed in Mexico in the late 1500s, he observed an Aztec ceremony centered around a dead person in a fetal position inside a large earthen bowl and assumed it was a cannibalistic ritual.
Saturday, guests at the 13th annual Latino Conference at Muscatine High School, learned Columbus was wrong.
Roberto Franco of the Omeyocan Dance Co. told audience members his ancestors were conducting a funeral symbolizing their respect for human life and the earth from which it came.
"The Aztecs believe in sharing and having respect for nature and the people that surround us," said Franco, whose group performed dances of their heritage.
Promoting understanding and respect was the central theme of the two-day conference Friday and Saturday, which was held in Muscatine for the first time.
The event was organized by co-chairs Kate Kemp, a program administrator at the University of Iowa School of Social Work, and Carlos Duran, social and cultural team leader of Mobilizing Muscatine Excellence.
Dance instructor and choreographer Jaime Camarena of Mexico City presented the history of dance and performances by his A Poc A Poc dancers.
"I think it's important to show our work everywhere," said Camarena. "And I'm quite impressed with this conference and Muscatine."
Marcus Vega, 14, of Dubuque came to the conference with a group of peers through a program of the Catholic Archdiocese of Dubuque.
Vega was born in Iowa after his parents moved here from Mexico. His mother, Gabriela Vega, participates in civil rights events on behalf of her fellow Latinos. Vega said he enjoyed meeting other people at the conference who gave a voice to his culture.
Karen Mason of Iowa City, who works in the Women's Archives division of the University of Iowa Library, said Muscatine was a good site for the conference.
"There is a great history of migrant workers coming to Muscatine to work and settling here to live," she said.
Conference keynote speaker Mike Benitez Jr. challenged the audience to "to treat others the way they want to be treated," which involves listening to the other person and wanting to understand. Benitez, 34, drew on his own experience of a life-changing act of human compassion.
As a young teen, in the midst of an altercation with a bigger student, Benitez threw a desk which hit a white, female teacher, damaging her ankle. Benitez was disciplined by school officials, but the teacher did not press charges and had Benitez return to her class.
As a college student, Benitez wrote the teacher a letter describing the way she helped shape his life. When the two met again, they embraced and the teacher told Benitez knowing she had made a difference in his life meant a great deal to her.
The conference concluded Saturday evening at Central Middle School with  an evening of music and dance which featured  performances by world-renowned opera singer and Iowa native Simon Estes,  Juan Carlos Mendoza of Muscatine, an opera tenor and Julliard School of Music graduate. ance performances were given by Omeyocan Dance Co., A Poc A Poc, Massive Attack and Muscatine's Miss Louise School of Dance.
Get local news delivered to your inbox!
Subscribe to our Daily Headlines newsletter.