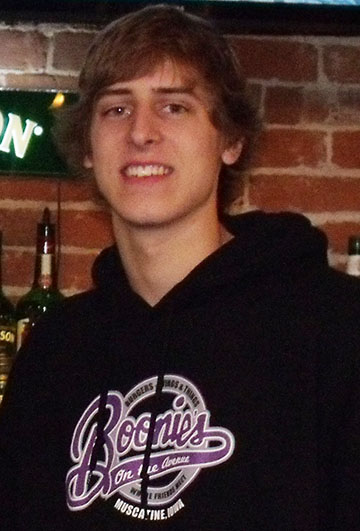 Editor's note: Every Monday, the Muscatine Journal profiles a local figure who responds to questions provided by one of our reporters.
MUSCATINE, Iowa — Cord Kleist's enthusiasm for the restaurant business is evident in every thank-you he gives a customer, shaking their hands and grinning as he introduces himself.
Cord's father, Mike Kleist, opened Boonie's on the Avenue (214 Iowa Ave.), where Cord works with him, last year. "I'd always dreamed of opening a place," says Cord, "and now here we are, it's almost April 1st. It's almost been a year already."
Cord is the assistant manager at the restaurant, under his father, and though it's evident that he loves what he does, his visions of the future don't end there.
— Ky Cochran of the Muscatine Journal
Education: Graduated from Muscatine High School in 2013
Family: Parents Mike and Teresa Kleist; brother Chance Kleist who lives in Boulder, Colorado; various other family in the area including cousin Trevor Kleist who also works at Boonie's.
What are your future plans?
I graduated high school last year and I planned on going to school but then this [Boonie's] became an idea. I've just been so busy that I haven't even had time to sign up for classes. I plan on next year going to Scott Community College. They have a restaurant program that I would try to figure into my schedule a little bit. We're trying to figure things out here, too, a little bit to where my dad and I can have more time off as well. Trying to hire some people and make it easier for us; we work too much.
How do you feel about Muscatine?
I don't see myself leaving. I don't know, it's just something — it's different. I see myself always having a house in Muscatine. I have dreams of franchising and opening more and stuff, but I think I would always have a location in Muscatine, I really don't know why. Muscatine's just weird, there's something about it.
So would franchising be your dream?
Yeah, that would be a dream, just because I love it so much. I would say this restaurant would be a model.
I thought about doing a smaller sized thing, maybe just do burgers — burgers, fries, onion rings, that kind of thing. My brother is part owner at Mami's and last weekend they had a grand opening in Boulder, Colorado, and it's like a Mexican sub shop. I think that would be cool because you can do it with three or four people and it can be the size of this bar and people could go down the line. It's something that nobody else really has. I just like cooking burgers, to be honest.
How did you decide to become a part of this?
My dad had asked me, probably about November, and said, would you be interested in helping me I wouldn't be able to do it by myself, (because my brother lived in Iowa City) and I said "Absolutely."
I was excited to go to Iowa City [after graduation, potentially for college]. I love the atmosphere, I love all the people, I just think it's somewhere I'd like to be and it was so easy to give it up for this.
What do you take care of in the restaurant?
I consider myself the kitchen manager. I make sure that we stay stocked on everything from straws to napkins to all food. I take inventory of everything in this place and order everything. I work in the kitchen on the weekends; Thursday to Sunday I work open to close. I cram myself into there because it's a busy time. I like the customers when we're busy to get my food. It's a weird thing, I feel like I do it the right way and that's how I want it done. I take pride in that. It's fun; these people [customers] make it easy. All the good comments. The customers are the best part, as a whole.
Do you like working with your dad?
I love it. He's very meticulous. We strive to be the best. We're hungry to be better and better and better so every day we try to do better and better and do things differently. It's hard because we're new to it so we don't know the right process of doing everything, you know what I mean? But we try our best and we try to make sure our customers are taken care of. That these people's drinks are full and they're happy, that's our main goal.
What do you do when you're not working at the restaurant?
That's not very often. I like to play basketball a lot. I played basketball in high school so I like to get to the Y and try to play some basketball games. And I like to hang out with my friends because they get to hang out all the time when I'm working. I like to spend money — I like to do the things I like to do, so I don't really stop myself. I don't work for no reason, that's kinda how I look at it.