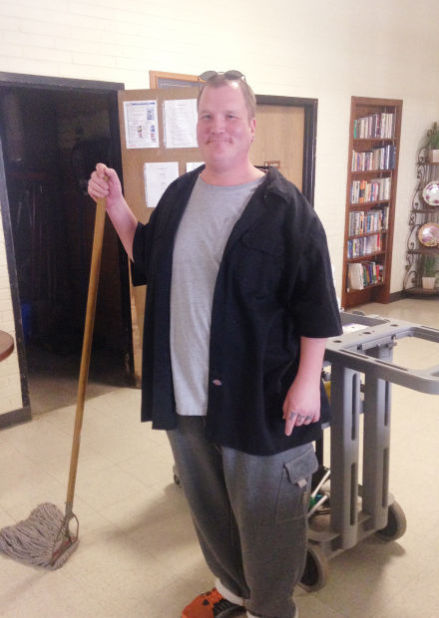 MUSCATINE, Iowa – Sam Suiter takes his success in stride – one step at a time as he strives for self-sufficiency and a place of his own.
"I've been going forward so well here lately. When I first started staying here, I was a failure, drinking and getting into trouble with staff," said Suiter, 37, a resident in MCSA's Overnight/Emergency Housing Program since March 2014. "I've been doing a lot better."
Last month, Suiter received a promotion at Wholesale Food Outlet in Muscatine, where he has worked part time since June. His goal in the next 12 months is to get his own apartment, pay old court fines and bills and get back the driver's license he hasn't had since 2006, when he was convicted on charges of operating while intoxicated and leaving the scene of an accident.
"The fines, I'd like to finish paying them off, pay the $200 to the DOT to get my license back," he said.
In the past, his future often didn't look so hopeful. Suiter was born in Muscatine and lived and attended school here through the ninth grade, when his family moved to West Liberty.
"After my dad passed away, my mom got with my stepdad now. He took us down south," Suiter said. "We went all the way to Hot springs, Arkansas, looking for places to stay. We ended up turning around in Hot Springs and coming back. We found a place in Humansville, Missouri."
Suiter started high school again in the southwest Missouri town of about 1,000 people. After a total of four and a half years in at least three different high schools and far short of the credits he needed to graduate, he dropped out, found a job as a laborer and started working.
"It took me three days and I had the job," he said.
Suiter was at work the day his house was broken into and he was robbed by three teens. They turned out to be a neighbor boy and his cousin and one of their friends.
"I got most of my stuff back. I started talking to them. Even though they broke into my house, they were still alright, I guess," Suiter said. "I just ran with the wrong crowd. Started breaking into stuff, stealing stuff and I got caught up one night."
He spent three years in a Missouri prison, where he completed the General Educational Development testing and then became a tutor for the last eight months of his sentence.
"There were guys in there that had sold drugs ever since they were in first or second grade and they dropped out of school," Suiter said. "They didn't know how to do basic math or nothing, unless it was counting money. That's all they knew how to do."
After his release from prison, Suiter came to live with his mother and stepfather in Muscatine. "She borrowed her boss's van, came down to Missouri and picked me up," he said of his mom. "They (prison officials) want you with family when you get out of prison."
But his mom eventually kicked him out because he was drinking. From there, he sometimes lived under the Norbert F. Beckey Bridge over the Mississippi River at Muscatine or stayed with friends and "wherever I could crash."
He moved into MCSA on March 24, 2014. Things haven't been perfect: He was disciplined in January for staying out past the 10 p.m. curfew for residents in MCSA's Overnight/Emergency Housing Program and in November for being intoxicated.
But he says he has benefited from the help he has received — both from his MCSA caseworker and the counselors he works with at the Integrated Health Home that the Quad-Cities based Robert Young Center opened in May 2014 in MCSA's lower level. Affiliated with UnityPoint Health–Trinity Muscatine, the Robert Young Center provides a full range of behavioral health services, including both inpatient and outpatient, for both adults and children. At MCSA, it offers help to adults with serious mental illness and Iowa Medicaid to assist them in meeting all of their health and social needs.
"There are people here to talk to," Suiter said. "I'm taking advantage of having a counselor, getting the medical help I need. I'm doing a lot better. I'm on my meds again."