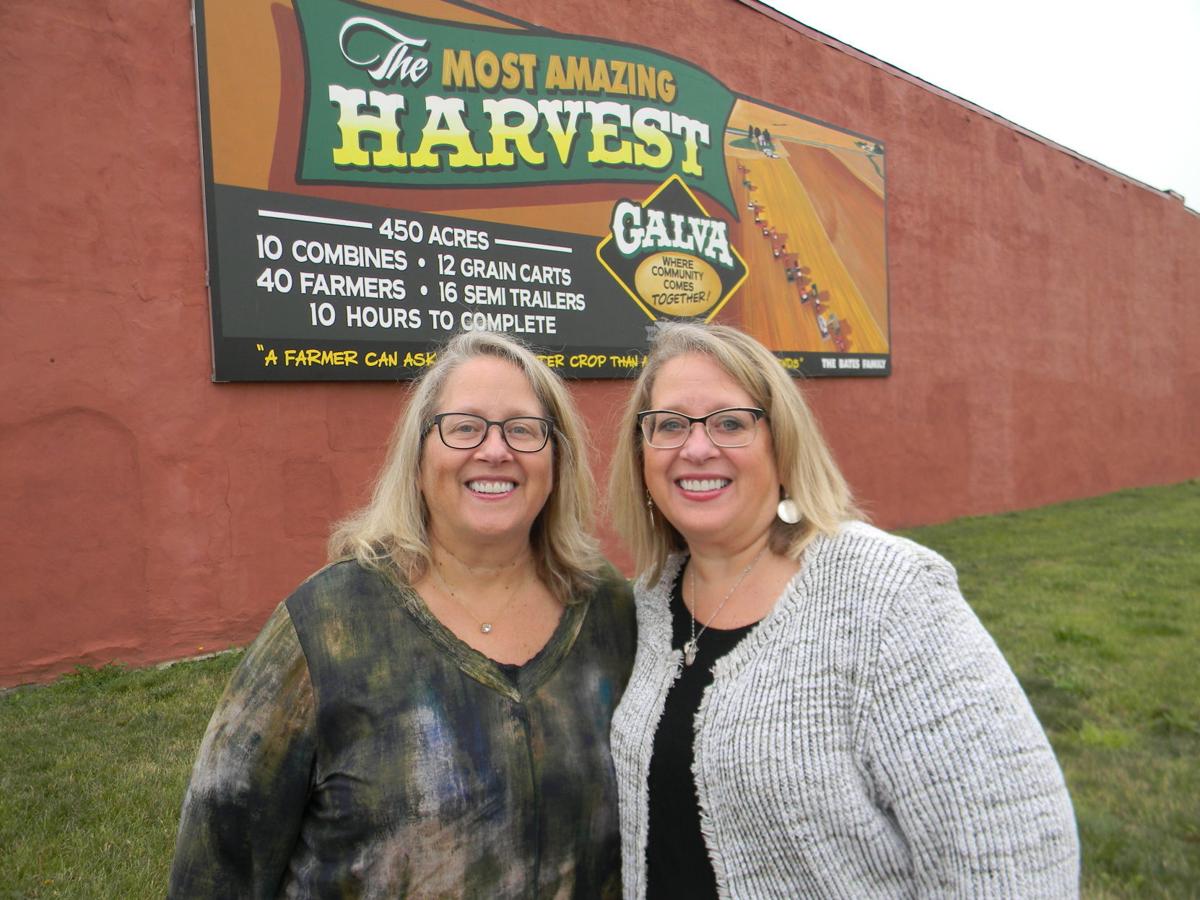 GALVA – Pam Bates is marking what would have been her 39th wedding anniversary on September 19 with a book launch.
She and her twin sister, Paula Patty, wrote a book, "The Most Amazing Harvest," about her 55-year-old husband Carl's battle with metastatic cancer in 2015, and how more than 40 farmers harvested his final corn crop of 450 acres in 10 hours.
Major news outlets picked up the story, which was broadcast internationally.
After her husband died, Bates felt called to tell his story, but doubted her ability to do so. She said she would respond to God, 'you don't need me.'
Every time she had those thoughts, the song "My Story" by Big Daddy Weave would come on the radio with the line, "If I told you my story, you would hear hope," she said. She considered it a sign from God.
"God was telling me to tell his story and I kept fighting it, saying I'm not a writer and I don't know how to write a book," she said.
On the first anniversary of Carl's death, Bates and her sister took the first of various book-writing trips. The writing process took two and a half years.
They struggled with whose viewpoint to use to tell the story, Patty said, until she said God gave her the message that Carl's guardian angel, "Gus," could tell the story.
The women advise five steps for recognizing signs from God: asking Him to show a sign, watching for the answer, believing that God hears every prayer, receiving the answer with humility and practice, practice, practice.
"That was one thing that kept me strong was my faith and our faith, knowing He was with me," Bates said.
Her husband had never sought the limelight, but Pam thinks he wouldn't mind the attention of this book.
"As long as he doesn't have to be here to tell it, then I think he would want other people to be inspired," she said.
The day of the community harvest, his widow recalls he wasn't having a great day and she told him he didn't have to go out to the fields, but he went anyway.
"He sat in the truck and people came over and talked to him and he thanked them for doing all that," said Bates.
Carl Bates was a survivor of childhood cancer, being diagnosed with a sarcoma tumor on his spine at age 11. His widow partnered with OSF Children's Hospital of Illinois' Heller Center for Kids with Cancer and will donate a portion of the book sales there, knowing her husband and his family could have benefited from the services the facility provides during his childhood bout with cancer.
They later learned that the amount of cobalt radiation her husband received as a child can cause tumors to come back 40 years later.
"Maybe if they'd known that, they could have been watching," said Patty.
As it was, her husband was told he could have six months to live with treatment and three months without. He opted for the latter.
"The oncologist said 'you made the right decision; it's not going to go away,'" said Bates. "And what kind of quality of life would he have had if we were going to treatments?"
"Part of the journey of writing the book was healing," reflected Bates. "You think of all the blessings you had."
A book launch party will be from 2 to 4 p.m. Sept. 19 at the junction of Rt. 34 and Market Street in Galva with food vendors, music, the book signing, door prizes and a raffle.
"The Most Amazing Harvest" is available at various area stores, from Amazon, BAM! Books-a-Million, Barnes and Noble, Indigo, Indie Bound and Powell's City of Books and at themostamazingharvest.com.