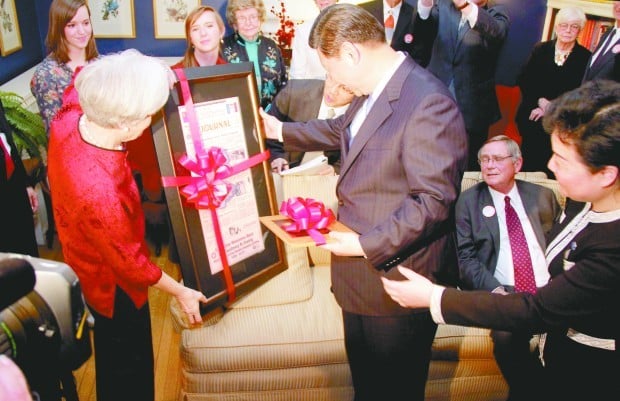 For a brief time Wednesday afternoon, the living room in Sarah and Roger Lande's home got a whole lot bigger
---
MUSCATINE, Iowa — In the warmth of Roger and Sarah Lande's living room, Chinese Vice President Xi Jinping sat on a sofa between the couple on Wednesday, surrounded by the "old friends" he never forgot from his 1985 trip here.
"Friendship is a big business," Sarah Lande said. "A world of friendship is a world of peace."
Through an interpreter, Xi, who is expected to succeed President Hu Jintao next year, said reuniting with the Landes and other Muscatine residents, was like coming home.
"You were the first group of Americans I came into contact with," he said. "To me, you are America."
Xi, 58, who visited Muscatine 27 years ago as an official in China's Hebei Province, returned on the second stop of an American tour that started Tuesday in Washington. It continued Wednesday night in Des Moines and is scheduled to end Friday in California.
In Muscatine, he met with the Landes, members of their family and 14 other current and former residents. Everyone at the meeting helped host Xi and four other Chinese leaders in 1985 during a two-day trip sponsored by the Iowa Sister State Friendship Committee and the Chinese People's Association for Friendship with Foreign Countries.
For Wednesday's 54-minute meeting, the "old friends," as everyone involved referred to themselves, were joined by Gov. Terry Branstad, Mayor DeWayne Hopkins and other dignitaries, including a Chinese delegation of at least 30 people and more than a dozen journalists from both countries.
Branstad, who was Iowa's governor in 1985 and first met Xi then, said he was honored and humbled by the Chinese leader's return to Muscatine.
"We consider you a great friend of Iowa," Branstad told Xi. "We are so appreciative you chose to come to Muscatine and to Iowa."
While the leaders and "old friends" exchanged gifts and shared memories of their visit 27 years ago, many of the Landes' neighbors watched from their yards in the rain. About a block away, some 100 protesters and counterprotesters gathered to condemn China for its human-rights record or show their support for the world's largest nation. Chants could be heard easily from the Landes' front porch as Xi arrived.
Both groups were peaceful and respectful, according to Muscatine police.
Inside, as everyone gathered in front of a blazing fireplace, the atmosphere was much warmer and familial. Xi was even able to recall the bottle of Chinese liquor he gave to Thomas and Eleanor Dvorchak, the retired couple from Florida in whose Muscatine home he stayed in 1985.
"I remember you were born in New York," Xi said to Eleanor Dvorchak, 72.
In her greeting, she told Xi: "You were my first introduction to the Chinese people ... So many times you hear so much bad in the news. And after having met you, it was all washed away."
Get local news delivered to your inbox!
Subscribe to our Daily Headlines newsletter.