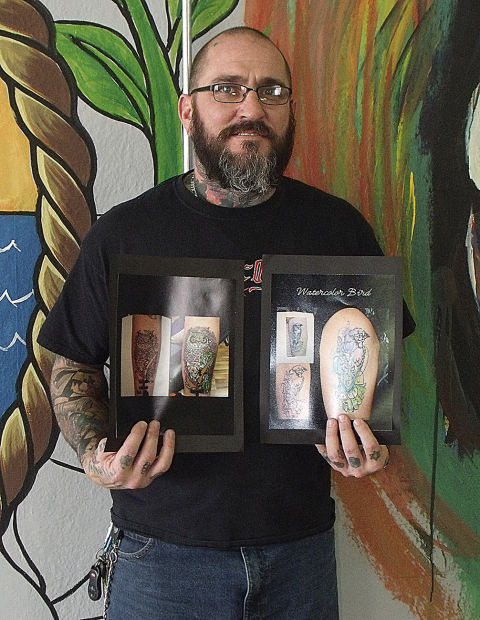 Editor's note: Every Monday, the Muscatine Journal profiles a local figure who responds to questions provided by one of our reporters.
MUSCATINE, Iowa — By the time he was in elementary school, Bill Kaufmann was already starting to draw.
"Once I started getting tattooed, it kind of prompted me to roll my art skills into tattooing as I stayed interested in the tattoo industry and getting tattooed," he said.
By the early 1990's, he was starting to ink his own tattoos, by 2005 he was he had started working as an artist in Muscatine. Two years later, he opened his first shop, Pearl City Lounge. His current shop, Pearl City Tattoo Lounge, has been in operation at it's location at 229 E. Second St. for the past two years.
Occupation: Tattoo artist; owner, Pearl City Tattoo Lounge
Family: Wife Samantha; children Jake, Gavin, and Rylee.
I understand that you've been working on some new styles and techniques. Can you explain about what these are and what they add to your work?
I've moved away from the hard-line, rigid black work and gone into more realism. So, you're looking at more of a picture in a tattoo than hard-lined coloring book styles. We're trying to get away from cookie-cutter tattoos where there's a hard black outline and then filled in inside. When you look at a face or an animal, you don't see a black line - you see gradients of color. That's what we're trying to bring to customers of Muscatine, more realism.
What do you need to do to develop these new techniques? What sort of research and practice is required?
For a tattoo artist, we go to conventions, we do seminars with world-renowned artists. We basically go back to school. Anytime somebody is learning new techniques in the automotive industry or the medical industry, they're always going back to school to learn new techniques or new technology. So, as an artist, we go and take classes from other artists, and that helps us to hone our skills.
If people are interested in getting a tattoo, what are things that they have to consider before getting it done?
Me as an artist, as someone who gets tattooed, I first think about location of tattoo, and then the idea of the tattoo, and communicating that to an artist, somebody that has the skill to develop the artwork for it and see what they have for ideas.
When walking into a tattoo parlor, they should always see visible certifications, they should be comfortable in the environment, and they should be comfortable with the people that approach them inside the shop - management, artists, and the overall feel of the environment.
What would you say is a big misconception about the tattooing business or tattooing in general?
The biggest misconception that's kind of been rubbing away would be that only bad boys and convicts get tattoos. The more stories you hear about and reasons that people are getting tattooed, the easier it is for people to realize why people are getting tattooed. Getting artwork is self-beautification, it's a way of eternalizing a memory of someone, a moment or minute in time.
What would be either the most unusual tattoo that you've ever found yourself giving or the most unusual clients you've had?
I think the most unusual clients are the little ladies that come in and get permanent cosmetics. They're doing something for themselves after years and years and years of doing their own makeup. That's the most fun for me, because I'm taking a step out of their daily routine for them and making it so much easier for them to get up, get out, get ready, and get out the door.