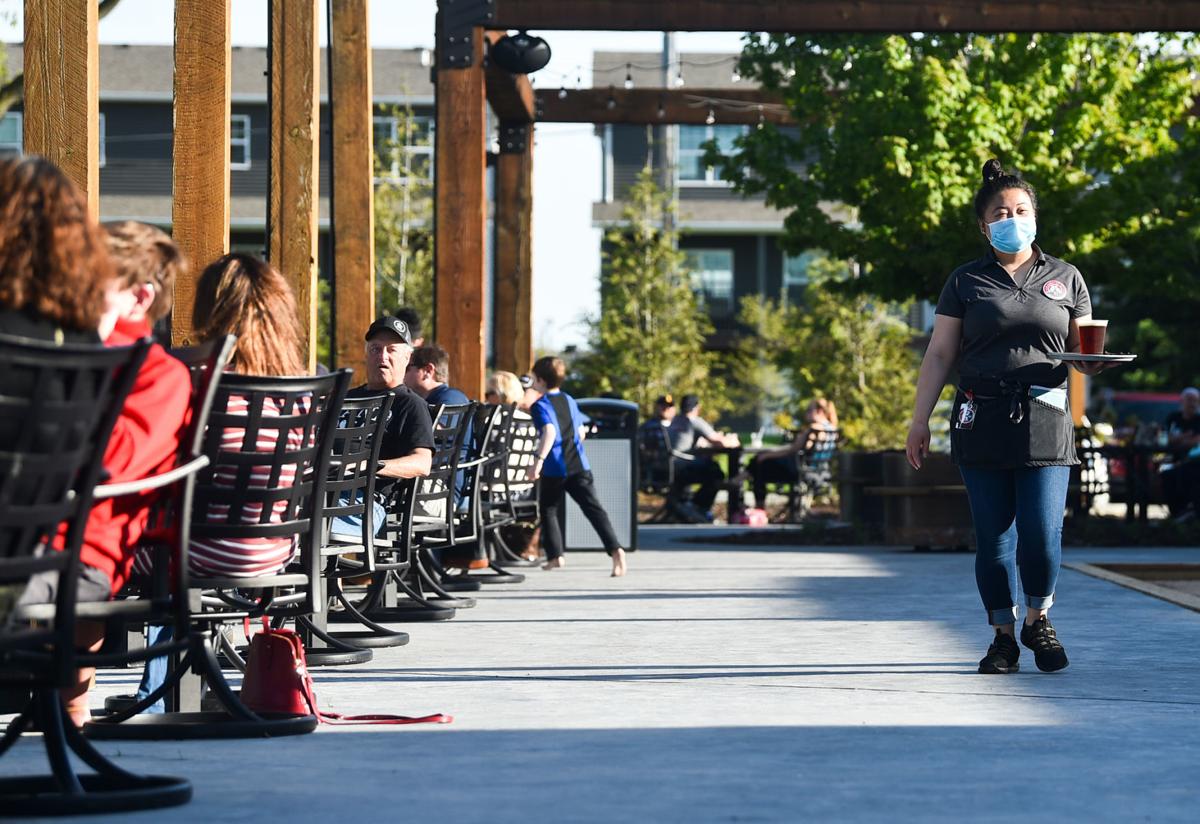 Amy Thoreson, deputy director for the Scott County Health Department, has a message for Quad Citians, especially teens and 20-somethings.
"We have to get it together, Quad-Cities,'' Thoreson said during a Friday COVID-19 videoconference, addressing a spike in positive cases this week.
Thoreson was joined by Dr. Louis Katz, an infectious disease specialist and medical director at the Scott County Health Department, and Nita Ludwig, administrator for the Rock island County Health Department.
Both Rock Island and Scott counties experienced upturns in positive cases this week. Scott County is in the midst of a dramatic, rise, with 81 positive cases since Wednesday, and a total of 548 positive cases reported by Friday at 7 p.m. That's up 103 cases in a week. Ten people have died. Rock Island County has recorded 20 positive cases since Wednesday, 59 since Sunday, and 861 positive cases overall, resulting in 28 deaths.
"For the past few months, I have been asked by family and friends if COVID-19 was keeping me up and night and for the most part my response has been no,'' Thoreson said. "The community response to COVID-19 was good and our numbers did not climb at the rate of others.''
Sleep, Thoreson said, is now an issue.
"Yesterday (Thursday), the positive-case reports kept coming in like winnings on a slot machine," she said. "We have never seen anything like it and I have colleagues who have been here for over 40 years. Yesterday (Thursday) 40 cases were identified in Scott County, approximately 6% of the cases we have identified since our first case March 21 and equal to 15% of the cases in April at our peak. Then it was scary, but not real in our community. It's real now."
Katz and Thoreson had a strong message for those ages 17-29.
They said contact tracing — talking to people who tested positive about where they had been in the last two weeks — shows the surge in Scott County is a result of increased traffic to bars, restaurants and entertainment entities, as well lax stance on social distancing, lack of face coverings and general hygiene (frequent hand washing).
'This is failure to control the first wave'
Katz cautioned this is not a "second wave" of the virus.
"We are surging," Katz cautioned. "This is not a second wave; this is failure to control the first wave. Three quarters of these patients were asymptomatic and infected over the past 7-14 days. There is an increase in hospital admissions and over the next 7-10 days we are going to see stress on the hospital systems. The average age (of a COVID-19 patient) in April was 59 and the average age last week was 29, lowered because of teens and young adults.
"I want to talk source control," Katz added. "A mask on me is to prevent me from infecting someone else. We shouldn't be in a social distancing situation without a mask. We are jeopardizing school openings at the end of August by these actions and long-term business-to-normal is being jeopardized by these actions. I would reimpose all social distancing initiatives prior to the reopening of the state (Iowa)."
Katz, Ludwig and Thoreson agree that protests did not seem to factor into the increase. Katz also noted increased testing is not playing a role.
"Risk of transmission outdoors is less than indoors," he said. "Shoulder-to-shoulder, with no face covering on, and general lack of hand-washing are issues. Some have tried to explain recent increase to increased testing. This is not the case, because our epidemic curve is exclusively people with illness. This is not an artifact of testing."
Katz also cautioned against the city of Davenport holding a fireworks show set for July 3 along the riverfront.
"Any mass gathering that brings people together from unrelated households is inadvisable," he said. "I can't ban the fireworks, but if someone asked me if we should have a mass gathering on July 4 (July 3), I would not."
Restaurants closing because of positive cases
On social media, Iowa Quad-Cities bars and restaurants are posting about positive cases among their staff. Atomic Coffee, Foundry Food and Tap and the Treehouse Pub and Eatery have all closed temporarily.
In a phone conversation Friday, Foundry Food and Tap assistant manager Nehemiah Briggs, confirmed the closing. He referred to a Facebook post from owner Michael Dewitte.
"Our highest priority is to protect the health and well-being of our people and our community," Dewitte said in a Facebook post. "As always Foundry will continue to take measures to push our safety precautions and standards. Internally we have informed our staff and thoroughly reviewed all our safety standards. We will continue to provide hand sanitizing stations at our entrance and common areas. We are requiring all staff that interacts with guests to wear protective masks. We will continue to ensure maximum social distancing and crowd control policies are in full effect. Lastly, we continue to actively educate our team about COVID-19 prevention strategies. Our community is our foundation and protecting our community will continue to and always be our top priority."
A similar post dotted the Facebook page of the Treehouse Pub and Eatery.
"We are announcing that three employees have tested positive with COVID-19. It is unclear when or where each individual contracted the virus. Our employees have been tested and did not return to work until negative results were confirmed. We have been taking every precaution in order to keep our environment safe for all customers and our staff, as well as following all protocols and guidelines. This includes disinfecting all surfaces, menus and areas on a routine basis. Based on the knowledge that symptoms may not be present during the entirety of the virus, moving forward we will be taking temperatures of all employees before entering our restaurant. We hold the safety and health of our community at the highest priority and truly appreciate all of your support.''
Concerned about COVID-19?
Sign up now to get the most recent coronavirus headlines and other important local and national news sent to your email inbox daily.