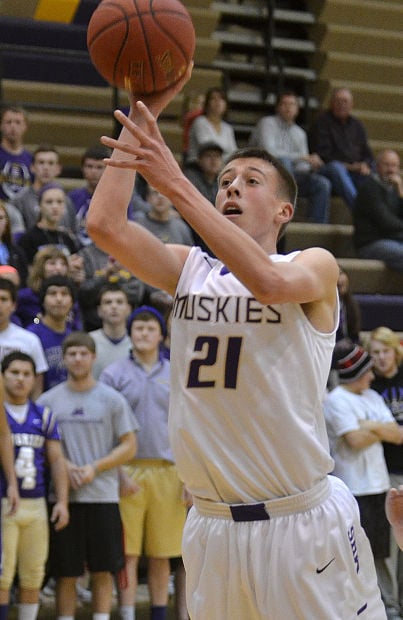 MUSCATINE, Iowa — The fit was undeniable.
And Joe Wieskamp, a Muscatine High School sophomore-to-be, didn't feel the need to let the recruiting process linger on, committing to play basketball at the University of Iowa during a visit to the Iowa City campus on Tuesday.
"If I knew I wanted to be there, why wait? Excited to be a Hawk," said Wieskamp, a life-long Iowa fan.
He added, "It feels great. It's a great school. It's in the Big Ten. All their games are on national TV. Having grown up watching [the Hawkeyes], it feels great knowing I'll be in the same spot as those guys."
A third-team Iowa Newspaper Association All-State player last season, Wieskamp, who also had offers from Iowa State and Northern Iowa, is the first recruit of the 2018 class for the Hawkeyes.
"Felt very comfortable there. The whole coaching staff is great guys," said Wieskamp, who added it was important that the Iowa City campus was just over 35 miles away to allow his family to watch him play. "I like all the guys that committed there. Their style fits into how I play."
The 6-foot-4 guard/forward averaged 18.6 points while shooting 47.1 percent and grabbed 6.1 rebounds per game as a freshman for the Muskies, both of which were team bests.
Wieskamp said that Iowa coaches can envision him playing at either guard position or even as a small forward, depending how he grows. His abilities give him the versatility of playing multiple positions.
"I think he's got a wide base of a skill set and he's able to do a lot of things well. He's got a lot of ways to score the basketball, he's got good length," said Muscatine boys basketball coach Brandon Welsch, the last Muskie basketball player to play on the Division I level when he finished his career at Robert Morris in 2000. "… Even though he's had some offers, his work ethic hasn't wavered. I think college coaches see that as well as his potential as player."
That will allow him to play the style of basketball the Hawkeyes have utilized under head coach Fran McCaffery.
"I like the way they run and gun, spotting up and shooting and getting to the rack," Wieskamp said. "I just felt like a lot of guys that are similar [to me] play there."
He joins fellow Hawkeye commits Cordell Pemsl, of Dubuque Wahlert Catholic, in the 2016 class and Iowa City West's Connor McCaffery in 2017.
Wieskamp has played travel basketball with Connor and Patrick McCaffery for the Iowa Barnstormers, and that has given him a chance to find a level of comfort with the entire family.
"I've grown up knowing the McCafferys and been around them a lot," Wieskamp said. "… I definitely feel comfortable around them and know they're great guys and want to be around them."
With his college decision made, Wieskamp can now focus on getting back to work on improving upon parts of his game he looks at as weaknesses — which he previously pointed to as becoming better with the ball and working on his quickness and strength — and not resting on his laurels.
"We've seen some good progress since last [season]. He's made some different strides," Welsch said. "… He knows and we know he's going to be a focal point for every team we play."
Wieskamp added, "I've been lifting a lot and working on my ball handling a lot, just preparing for the upcoming AAU season and high school season."