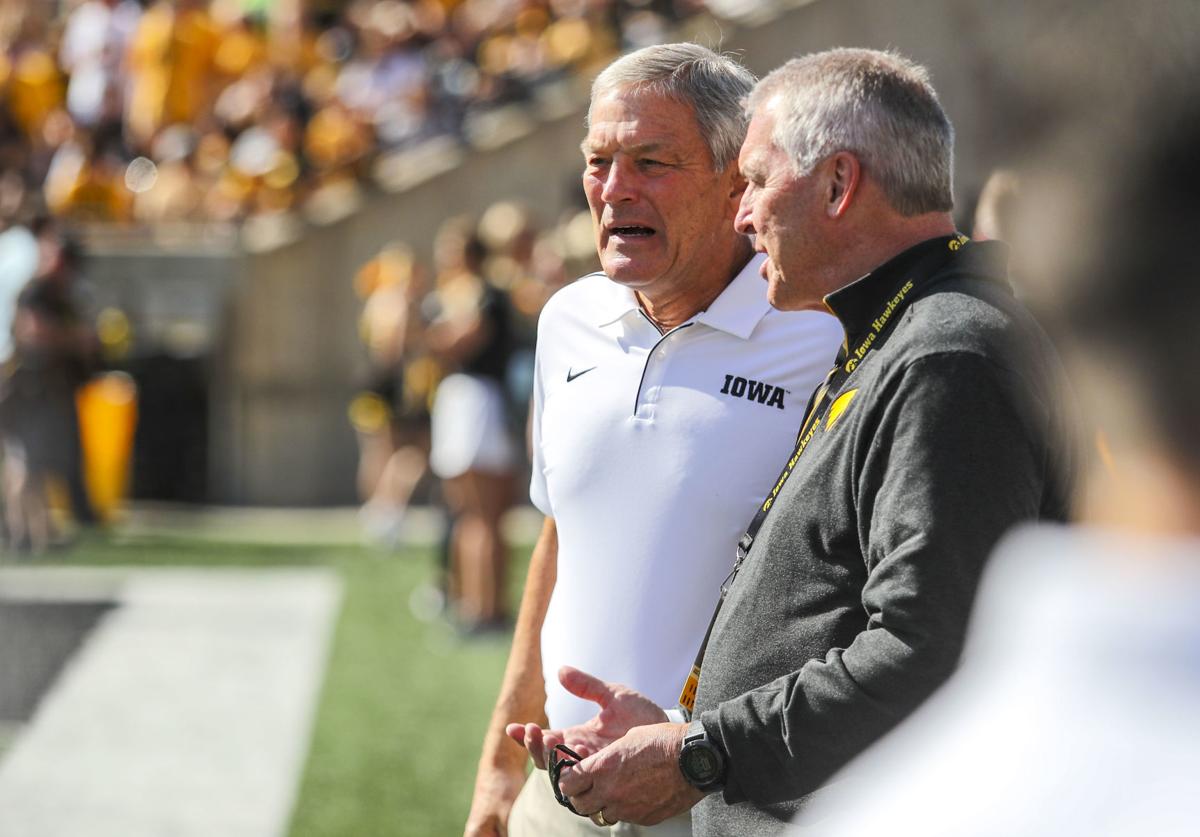 Time remains on Gary Barta's side.
The Iowa director of athletics was named earlier this year as the chair of the selection committee for the College Football Playoff, a challenge in any season but one which may become even more complicated in 2020.
With the COVID-19 pandemic creating all sorts of possible scenarios about just what the upcoming college football season may look like, the 13-member committee Barta leads may face an unprecedented task.
Asked during a video conference on Thursday about how the committee might handle the possibility of judging a team that might play a full schedule against another that ends up with a limited schedule because of the health crisis, Barta said the fundamental foundation of forming the four-team playoff field will remain unchanged.
"As you know, there's a list of principles that the board created when the (College Football Playoff) was put together. Those principles are still going to be guiding the decisions and the goal remains unchanged,'' Barta said.
"The goal is to decide the top four teams to play in the semifinals, and then to rank teams through the top 25 after that. So, the methodology in the scenario (of teams playing a different number of games) would certainly have to change, but the principles would remain the same.''
Those principles include conference championships, head-to-head results, strength of schedules, comparative outcomes of common opponents and other factors such as injuries that have or could impact a team's performance in the postseason.
Barta said if presented with a situation where one team had played only conference games and another had played a complete 12-game schedule, the selection committee would listen to input from conference leaders.
However, he said the core principles of the committee's charge won't change.
"We would put together a method and a process that follows the principles and identify who the committee believes are the best four teams to play in that playoff,'' Barta said.
Barta said the current situation has impacted his role with the committee only minimally at this point.
A planning meeting with the board that oversees the College Football Playoff scheduled for May was canceled.
Another planning meeting for the selection committee is scheduled for later this summer, but Barta said it could be conducted virtually if an in-person session is not possible at that time.
Barta indicated that he is now at a point where he would be comfortable flying to Dallas for meetings as necessary, expecting social distancing to be part of how the room is set up.
The first CFP rankings of the 2020 season are not scheduled to be released until November and Barta said committee responsibilities until that time basically center on watching games and familiarizing themselves with the landscape as the season unfolds.
"Our work as a selection committee doesn't really begin in earnest until late October, early November when we put together the first rankings,'' Barta said.
"There is a lot of time between now and then and as we've seen, things can change rapidly from one day to the next.''