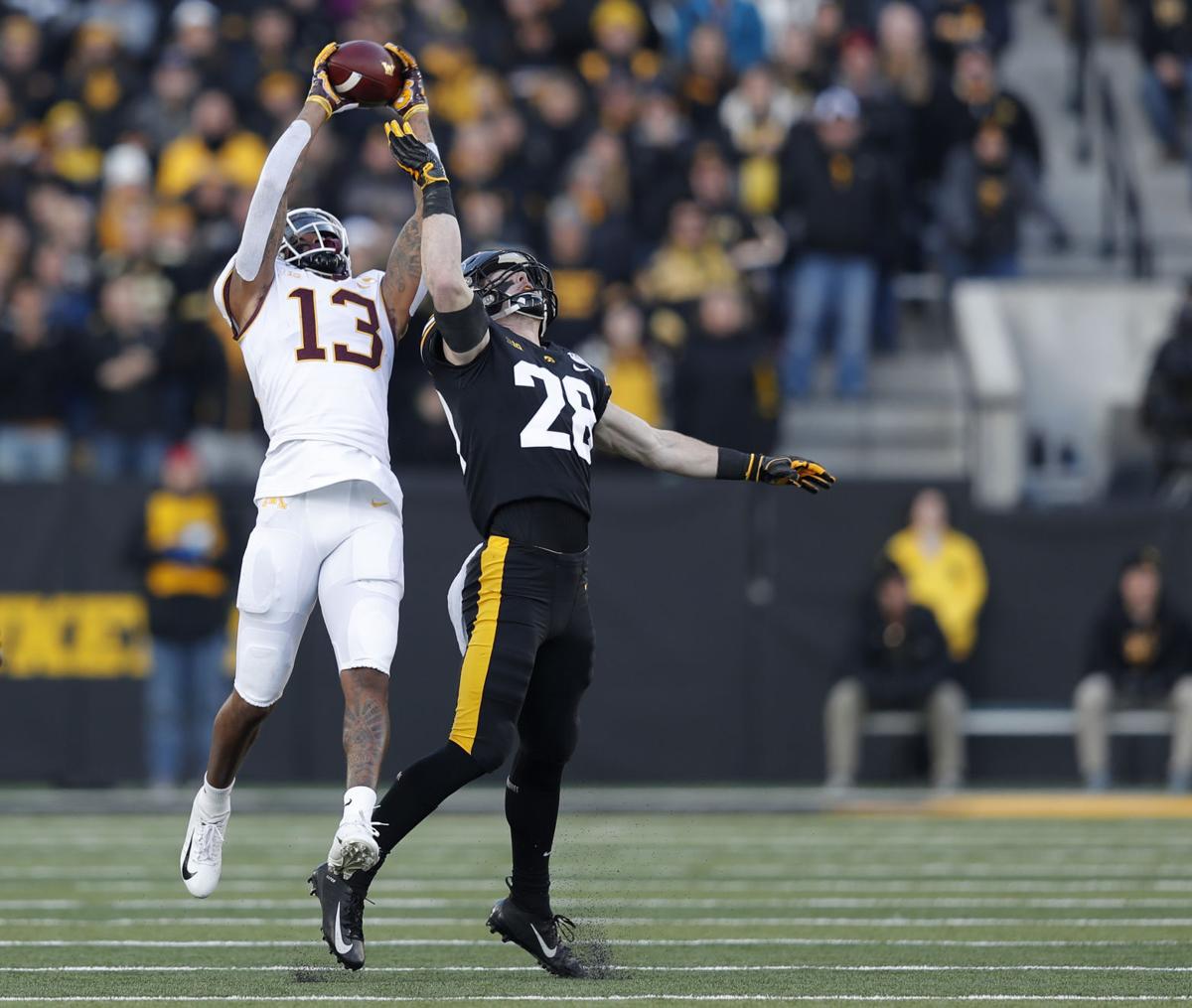 BIG TEN BREAKDOWN: Minnesota
COACH: P.J. Fleck, 23-15 entering fourth season at Minnesota, 53-37 entering eighth season overall
2019 RECORD: 11-2, 7-2 Big Ten (Second, West)
OFFENSIVE STARTERS RETURNING (8): LG Blaise Andries, WR Chris Autman-Bell, WR Rashod Bateman, RG Curtis Dunlap, RT Daniel Faalele, QB Tanner Morgan, C Conner Olson, LT Sam Schlueter
DEFENSIVE STARTERS RETURNING (4): DL Micah Dew-Treadway, CB Coney Durr, SS Jordan Howden, CB Benjamin St-Juste
SPECIALISTS RETURNING (1): PK Michael Lentz
RETURNING STATISTICAL LEADERS: Rushing, Mohamed Ibrahim 114-604; Passing, Tanner Morgan 210-318-7-3,253-30; Receiving, Rashod Bateman 60-1,219; Tackles, Jordan Howden 57; Interceptions, Jordan Howden 1
QB TANNER MORGAN: Among a group of eight returning starters, including the entire offensive line, junior quarterback Tanner Morgan will be looking to build off of a success-filled season a year ago when he stepped into the lineup after Zack Annextad suffered a foot injury in preseason camp. The 6-foot-2, 215-pound Kentucky native who completed 66 percent of his 318 passes a year ago for 3,253 yards will be working with a new offensive coordinator this season in Mike Sanford.
WR RASHOD BATEMAN: After initially opting out of the 2020 season, the junior who was named the Big Ten's receiver of the year in 2019 opted back in and will look to continue the level of production he had a year ago while averaging 20.3 yards on his 60 catches. The 6-2, 210-pound junior will need for junior receiver Chris Autman-Bell to grow his 28 receptions from 2019 to help keep defenses honest. Mohamed Ibrahim, a 1,000-yard rusher in 2018, will lead the Golden Gophers' ground game.
CB BENJAMIN ST-JUSTE: One of four returning starters on a defense looking to replace six of top seven tacklers from a year ago. The 6-3, 200-pound senior who began his career at Michigan joins returning starter Coney Durr at the cornerback spots. The pair each had team-leading totals of 10 pass breakups a year ago. Free safety Tyler Nubin, a sophomore from St. Charles, Ill., is expected to help Minnesota replace Antoine Winfield Jr., the Big Ten leader in interceptions a year ago. Micah Dew-Treadway, a sixth-year senior and Notre Dame transfer, is the lone returning starter on the defensive front.
Losses to Iowa and Wisconsin following a 9-0 start to the season in 2019 denied Minnesota an elusive Big Ten title opportunity but the program's first 10-win season since 1904 and a top-10 finish in the final Associated Press poll of the season has solidified the foundation P.J. Fleck has worked to build. Improvements on special teams will be important. Kicker Michael Lantz returns after hitting 9-of-12 field goals a year ago, but his longest covered only 40 yards. Minnesota will have a new punter in Australian import Mark Crawford.
Minnesota receiver Rashod Bateman has changed his jersey number from 13 to O for the upcoming season, announcing the move by saying he wanted it to represent "zero tolerance for racism in this culture.'' Bateman will be among the first college players to wear jersey number O this year. The number was previously not allowed by the NCAA, but in February the NCAA Football Rules Committee approved a change largely in response to recent popularity of single-digit numbers.
Where Minnesota ranked in the Big Ten in 2019:
Scoring offense: 34.1 (Fourth)
Rushing offense: 178.7 (Sixth)
Passing offense: 253.3 (Fourth)
Total offense: 432.0 (Fourth)
Scoring defense: 22.5 (Seventh)
Rushing defense: 122.4 (Seventh)
Passing defense: 184.2 (Second)
Total defense: 306.6 (Third)
The Golden Gophers' record over the last five seasons:
Record in the last five games vs. the Hawkeyes:
2015: Iowa 40, Minnesota 35
2016: Iowa 14, Minnesota 7
2017: Iowa 17, Minnesota 10
2018: Iowa 48, Minnesota 31
2019: Iowa 23, Minnesota 19
Be the first to know
Get local news delivered to your inbox!