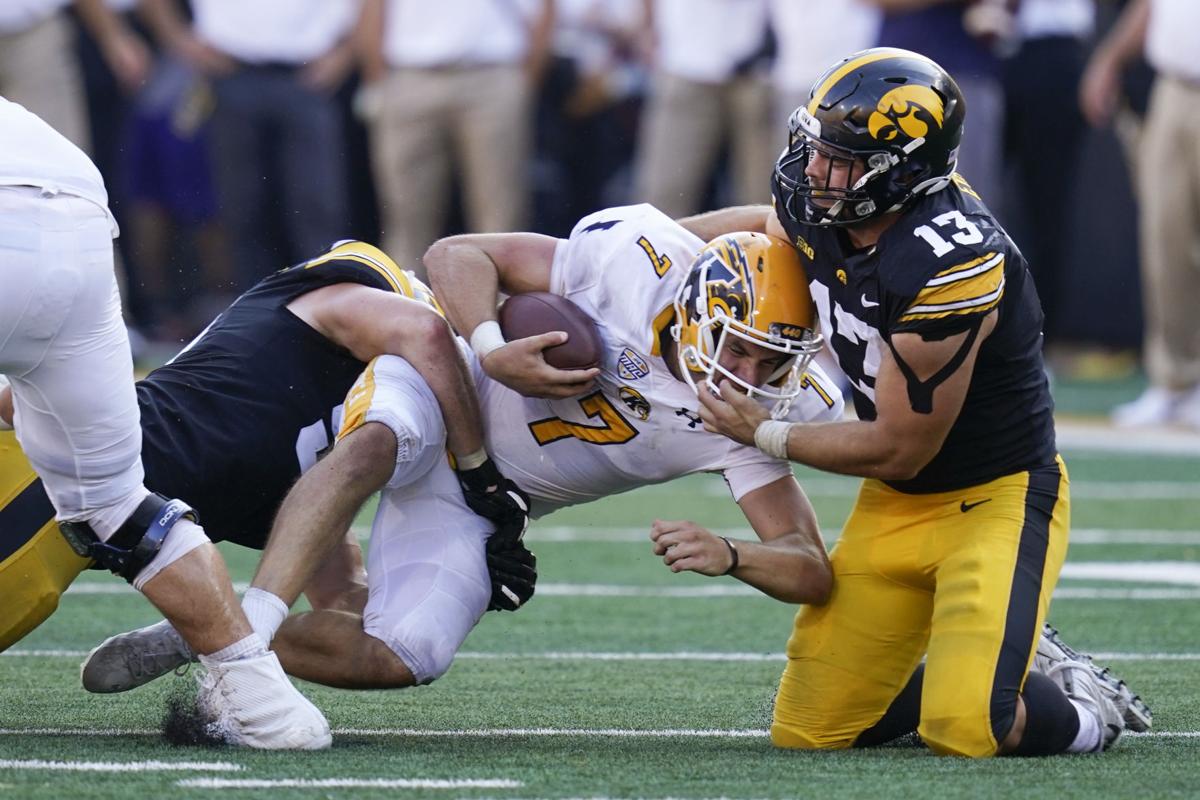 IOWA CITY — For the players lining up on Iowa's defensive line, there is strength in numbers.
The fifth-ranked Hawkeyes may be young up front on defense but Iowa has found early-season success by utilizing the abilities of multiple players.
A healthy rotation across the front four on defense has been the norm in recent seasons for the Hawkeyes, but the usual shuffle of seven or eight players grew to 12 who saw action on the Iowa defensive front last week against Kent State.
Six players, starters John Waggoner and Zach VanValkenburg at the end positions and tackles Logan Lee and Noah Shannon inside as well as reserves Joe Evans and Lukas Van Ness, each took more than 30 snaps to help Iowa move to 3-0 on the season.
The objective of keeping fresh legs and fresh minds on the field is something that will likely continue in Saturday's 2:30 p.m. game against Colorado State at Kinnick Stadium.
Collectively, the rotation of linemen has helped Iowa compete at a high level heading into a match-up that should be the most physical game the Hawkeyes have faced so far this season.
The Rams average 306 pounds across their offensive line and have a workhorse running back in 6-foot, 240-pound senior David Bailey who rushed the ball 30 times a week ago and averages 21.3 carries per game.
"It's a very similar offense to Wisconsin," Shannon said. "I understand their (offensive coordinator Jon Budmayr) coached there so I understand there will be some similar schemes. It's a lot of downhill stuff."
Iowa has been effective in stopping the run this season, allowing 81 yards per game on the ground.
Assistant defensive line coach Jay Niemann believes Iowa's rotation up front has helped facilitate that.
"These guys have worked hard and want to be coached," he said. "I think that has a lot to do with the progress that has been made, and as long as they're open to it and the needle is pointing in the right direction, we're in good shape."
Niemann said seeds for the growth across the front four were planted last spring.
"I think the biggest thing (defensive line coach Kelvin Bell) and I have tried to do is impress on these guys the importance of building a fundamental base," Niemann said.
"It's really a matter of corrections and reinforcements. When they make a mistake, explain what it is and why it happened. Tell them, 'This is what you need to see differently' and go from there."
Shannon said the group is learning together, sometimes sitting down with offensive linemen they compete against daily in practice to critique each other's work.
"You can ask them what are they looking for when we're pass rushing or when they are run blocking," Shannon said. "Where are they trying to reach us? Is it the number on our chest or is it our shoulder pads? It definitely gives you a better understanding of what they're trying to do."
Shannon said former offensive line coach Tim Polasek encouraged his players to take the time to have that interaction with their teammates.
Offensive lineman Kyler Schott said he has reviewed film with Lee, helping the first-year starting defensive tackle from Orion understand where he is coming from in certain situations to help him develop a better plan to counter that.
"There's some insights that guys can glean from one another that you wouldn't get by just sitting in your own position meeting," Niemann said. "Because we have a close-knit team, I'm sure quite of bit of that goes on."
Coach Kirk Ferentz said the group continues to learn with each game.
"Every snap is important, especially for these younger guys," Ferentz said. "On both sides, we have a lot of guys up front who haven't played much."
With Chauncey Golston, Daviyon Nixon and Jack Heflin joining VanValkenburg in filling starting defensive roles a year ago, there weren't a lot of snaps for players like Van Ness, Deontae Craig and Yahya Black.
"That second-year group of guys, and really throw Logan Lee in that group because he's missed so much time, they've worked hard in practice and are all doing a good job, but we didn't have room for them until now," Ferentz said.
Niemann is anxious to see where it all can lead.
"We're far from a finished product, but we certainly like the start we are off to," he said.
"We're playing well together and that's what it's about, playing as a team no matter who is out there," Shannon said. "We're seeing how that works. We just need to keep it going."