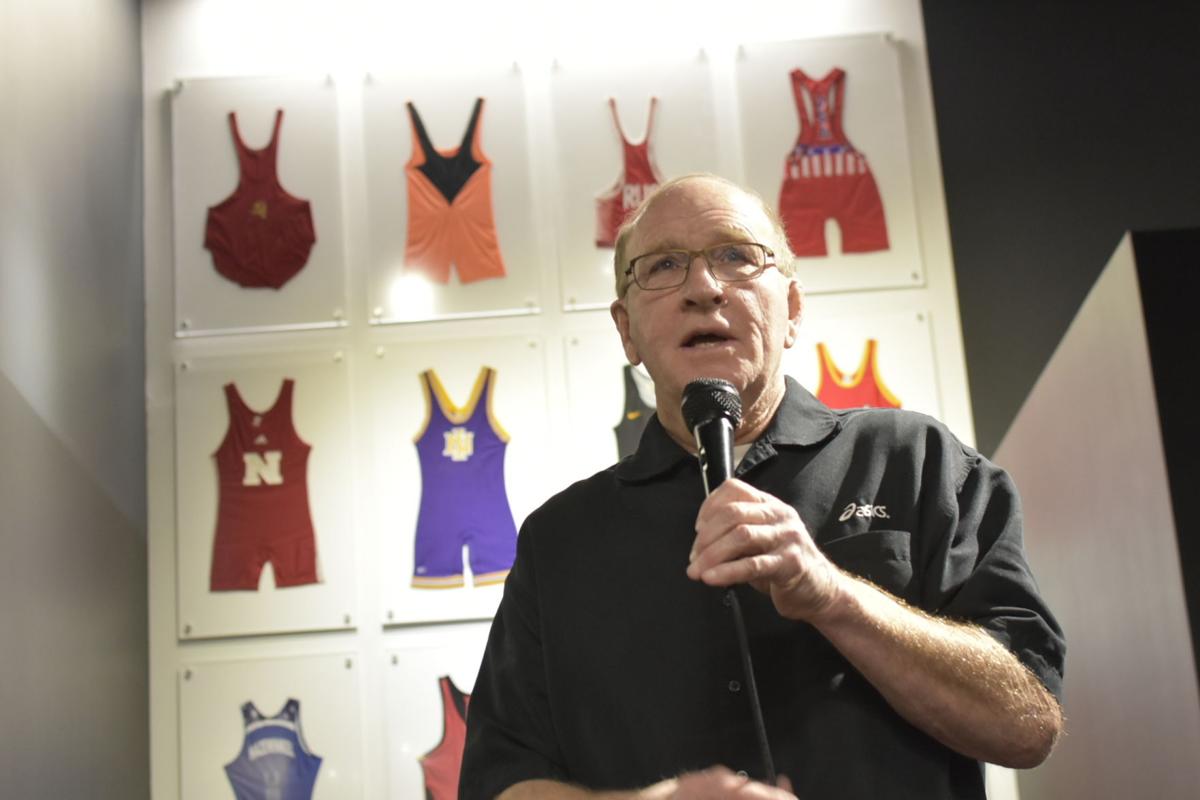 Dan Gable was at his granddaughter's cross country meet Tuesday afternoon when his phone rang.
Gable let the call go to voicemail.
When he checked it later, it turns out the White House was trying to reach him.
The White House officially connected with Gable around 11:30 p.m. Tuesday. Around 10:30 a.m. Wednesday, President Donald Trump called to officially inform the Waterloo native and Iowa wrestling icon that he was going to award him the Medal of Freedom, the highest civilian honor the United States bestows.
"I'm excited," Gable said. "It's good for Waterloo. It's good for the museum. It's good for the state. It is motivation for me to keep doing what I'm doing for the sport I love, wrestling."
Gable said he and President Trump spoke for 15 minutes in a phone conversation that included U.S. Representative Jim Jordan of Ohio, who, along with U.S. Representative Dave Loebsack of Iowa, was one of the key figures who sent a letter to the president in August requesting Gable receive the honor, saying he "defined greatness as an athlete and a coach."
"He laughed a lot," Gable said of the President during their phone call. "His son, Donald Trump Jr., was a wrestler and has a passion for wrestling."
Gable said he was aware he had been nominated for the award, but had not given it much thought until he received a letter from the president on Tuesday in addition to the phone calls.
"I'm not a guy who showed a lot of outward emotion. I might have given a little jump when I won the gold medal, but there is a lot of internal emotion with this award," Gable said. "Somebody said wouldn't it have been great if his parents (Mack and Katie) and his sister (Diane) were still alive to see him receive the award. And I told them they are here and that they know."
Gable said he is unsure when he will receive the award as the White House wants his entire family to share in the moment. Gable and his wife Kathy have four daughters — Jenni Mitchell, Annie Gavin, Molly Olszta and Mackenzie McCord along with 13 grandchildren.
Gable, 71, is a beloved figure in Iowa, where polls show the president to be neck-and-neck with Democratic nominee Joe Biden just weeks before Election Day. Trump was scheduled to speak at a campaign rally in Des Moines on Wednesday evening.
After racking up two NCAA national championships at Iowa State University, Gable went on to win the 1971 Pan American Games, two world championships and the gold medal at the 1972 Summer Olympics in Munich.
Following the string of victories, Gable went on to join the coaching staff at the University of Iowa, where he posted a record 355 wins — including 15 national team titles — from 1976 to 1997. He served as the head Olympic coach for U.S. wrestlers at the 1980, 1984 and 2000 competitions, leading his athletes to seven gold medals.
Gable — who was raised in Waterloo and now lives in Iowa City — has authored multiple books drawing on his wrestling expertise as well as his personal life story, which was shaped by the murder of his sister as a teenager.
His iconic status in Iowa has drawn the attention of multiple political candidates over the years as they sought to gain traction in the first-in-the-nation caucuses. But Gable has largely resisted politics and withheld his sought-after endorsement — a level of neutrality that has contributed to his popularity in Iowa.
In 2015, Gable appeared on stage at a Trump rally. He wore an Iowa wrestling hat and held the Trump campaign's signature red "Make America Great Again" hat in his hand.
"I'm very happy to be kind of neutral," Gable said as he stood on stage next to the future president. He added that he was at the event for "an education purpose" but that he liked Trump's slogan.
Gable is the first athlete or coach from the sport of wrestling to receive the honor. Other coaches and athletes of prominence that have earned the award include Jesse Owens, Babe Ruth, Paul "Bear" Bryant, Pat Summit and John Wooden.
Be the first to know
Get local news delivered to your inbox!