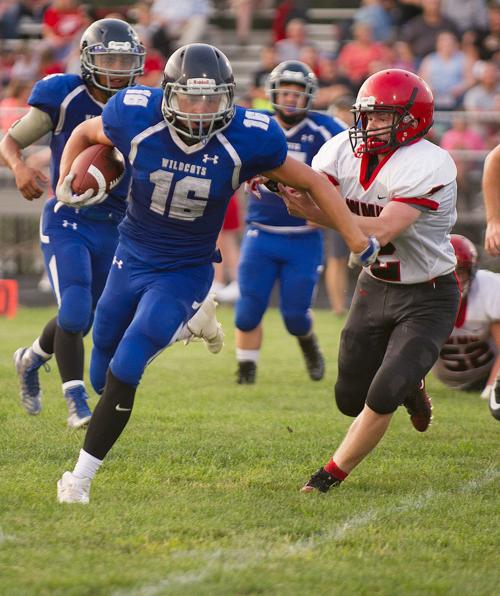 COLUMBUS JUNCTION, Iowa — The Columbus Community football team is aware of its reputation. 
The Wildcats also know that it isn't going to change overnight.
But they're prepared for the long-haul.
The team's credo this season is "Day by day, the Wildcat way." Which is to say, the only path towards restoring what was once a powerhouse of a football program is to do so a little bit at a time.
"People say, 'Oh, it's Columbus, easy game,'" junior Will Schwab said. "I want to change that to 'We're playing Columbus, it's going to be a (fight) instead of everyone walking in thinking we're a cakewalk.'"
The 2019 Wildcats want to be a catalyst of sorts for a more successful future for not only the team but the school and the town as well.
"Last year … we had a really rough year," junior Mason Hodges said. "We want to win some games and turn this program around and we want to have the community behind us."
After going 11-35 the past five seasons, new head coach Tyler Kibbee is focused on ushering in a new culture around Columbus football.
"We're trying to establish a culture here," Kibbee said. "We're trying to decide who we want to be and how we want to do it."
And it comes at a good time for the Wildcats, too.
Columbus' roster does have a number of seniors on it, but it also features several key players who will be in a Wildcat uniform beyond this season.
"We (want) to keep it as a family," junior Trevor Bright said.
Offensively, Bawi UK will take over at quarterback for Chance Colby (who's now playing at William Penn). But the Wildcats do bring back a rather experienced receiving corps.
Senior Jamie Villegas brought in 12 receptions for 112 yards and a score as a junior. Bright is back after a five-catch, 101-yard performance a year ago that included two trips to the end zone.
And then there's Schwab, who almost assuredly will see touches this season.
As a sophomore in 2018, Schwab had less than a catch per game. But when he did get to touch the pigskin, he was sensational. Schwab turned seven catches into 144 yards and three touchdowns, good for an average of 20.6 yards per catch. He'll almost certainly see the ball more as he's in line to be moved to running back so that Columbus can get him the ball via handoff or pass.
Anything near the level of efficiency he's shown, coupled with an uptick in volume, could solve several of the Wildcats' problems.
However, Schwab is also almost assuredly to see an increase in attention given to him by the defense as well. Regardless, the Wildcats aren't waiting around for anybody.
"Over the summer, we've established our tempo," Kibbee said. "We want to maximize our time … we want to play fast and we want to play aggressive."
Though Colby will be incredibly tough to replace as a signal-caller, there's just as big, if not bigger, shoes to fill on defense.
Colby and Jose Cerezo, who also graduated, had 80.5 and 79 total tackles (solo tackles plus tackle assists) last season, respectively. Schwab was next with 68.
Given the nature of the sport, football is long on practice but short on games. Thus, the Columbus Wildcats will have quite a bit of time to improve, just a lot less time to prove it.
Columbus dropped its season opener Friday night to Cardinal (Eldon), 38-0.
"We earn everything," Kibbee said. "We learn together, grow together and just give great effort, that's what we're focused on."