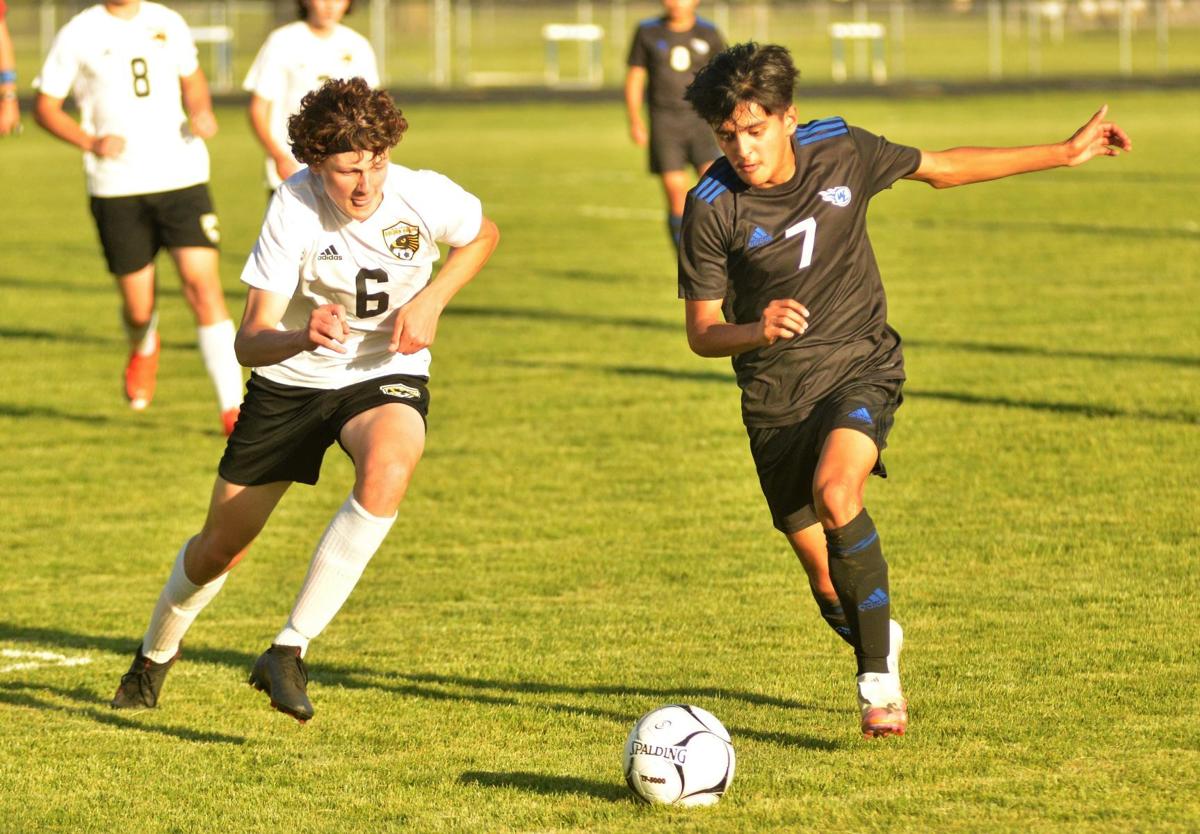 WEST LIBERTY — It didn't take long for Jahsiah Galvan to make it back to state.
After being a part of a West Liberty shuttle hurdle relay that took third at the Class 2A state track and field meet last Saturday, Galvan and the Comets are off the Class 1A boys state soccer tournament after beating the Mid-Prairie Golden Hawks 3-0 in the Substate 6 final at West Liberty's Memorial Field on Wednesday night.
The state quarterfinals start Tuesday at Cownie Soccer Complex in Des Moines.
Though Galvan was held scoreless, his presence drew lots of attention from the Mid-Prairie defense, as the super athletic Comet junior is a threat from anywhere on the field.
"It feels great," said Galvan, who leads the Comets with 36 goals this season. "It makes it feel like all the hard work we've put in has paid off. All that stuff we did wasn't for nothing. All the 5 a.m. practices and workouts, it's paying off right now.
"I'm so excited, hopefully win some games (at state) and bring something home."
West Liberty ended the season ranked fourth in 1A and was the top seed in the substate.
For the scoring, West Liberty (15-3) relied on Juan Mateo for two of the three goals. Mateo is now up to 33 goals on the season.
Mateo broke loose for a goal in the third minute to give the Comets an early lead.
The battle for possession and field position throughout the game was very lopsided in favor of the Comets, but Mateo's first score would stand well through halftime, even as West Liberty put six first-half shots on goal to zero by the Golden Hawks (11-5).
Mateo's second score came in the 56th minute when older brother Joshua assisted on the score.
Joshua, a senior, put a remarkably-placed lob ball over the Mid-Prairie defense, where only Juan, a sophomore, could get a header on the ball and knock it into the net after the defense essentially set a pick on Golden Hawk goaltender Justice Jones, setting up the Mateo hookup.
"I got the pass from my brother, and (put it) in the back post," said Juan Mateo. "We've been playing together since we've been young. We have a lot of chemisty.
"It feels amazing. Scoring two goals and going to state as a sophomore, nobody expects that. This is crazy."
The final West Liberty goal came in a flourish, almost immediately following the second score of the game, when the Comets held possession deep inside the box. A shot on goal was bounced off the left post and rolled back across the field for Comet senior Ronald Guzman Lopez to clean up on the rebound.
"We've been peaking here at the end of the season, which is exactly when you want to do it," West Liberty head coach Walton Ponce said. "(Early on), we were getting acclimated with one another, but tonight, it might not have been flashy, but it was exactly what I asked of them, and we got the job done.
"We'll definitely get them the rest they need the next couple days, but we'll also focus on what's to come."
West Liberty ended up putting 15 shots on goal while on the other end, the Golden Hawks forced Comet keeper Ruben Meraz to make just a single save.
"I'm thrilled," Ponce said. "We had a specific game plan. We knew (Mid-Prairie) was probably going to come in and sit back and try to counter us, but they really didn't get anything dangerous in front of our goal and we were able to do what we needed to do to get a few goals on board and move on to state."