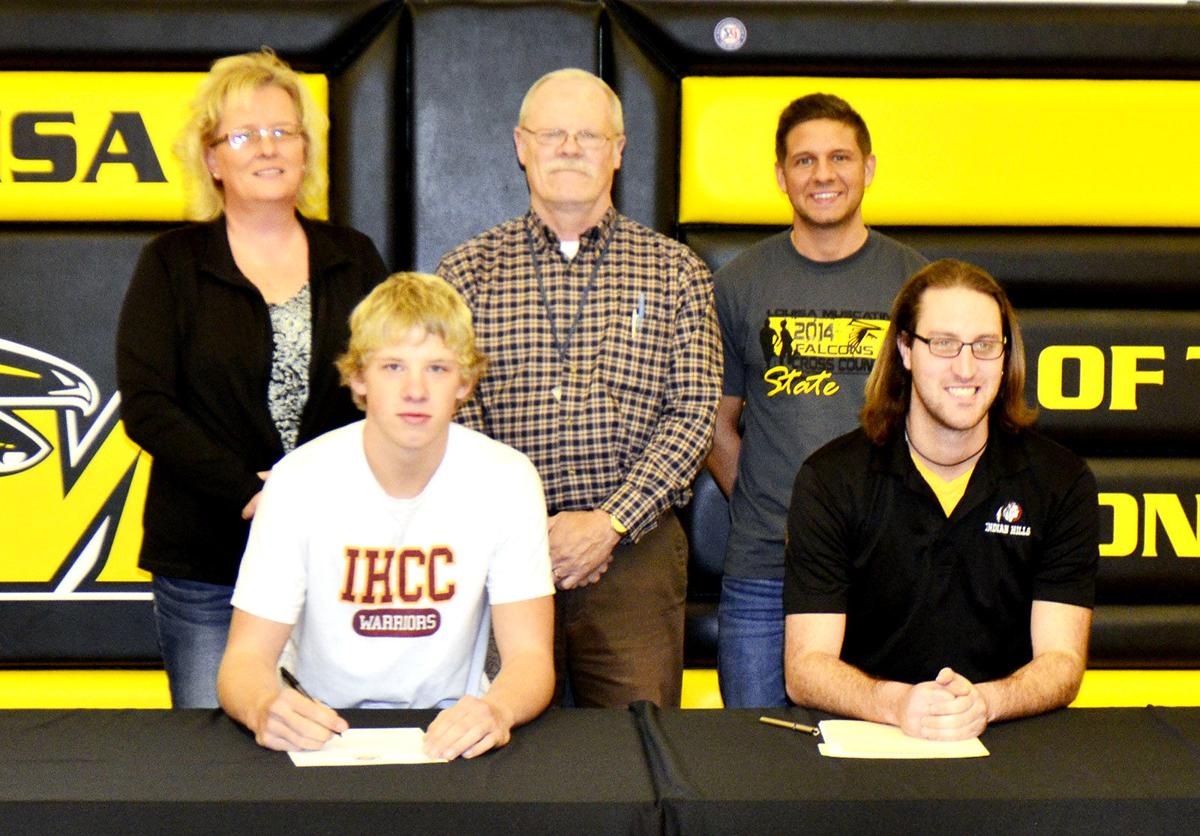 LETTS, Iowa — Lucas Nowak wasn't really sure if he wanted to continue his running career heading into his senior season this fall.
His mind was changed as he competed during his final campaign with the Louisa-Muscatine High School cross country team, though, one that saw Nowak help lead the Falcons to a breakthrough berth to the state meet.
"This year reassured me I really wanted to," Nowak said. "I really enjoyed this year."
While he had decided he wanted to run in college, he wasn't sure how to go about making that happen.
Ironically, former Wapello standout Colin Poe helped Nowak's aspiration become reality, one he made official Tuesday morning when he signed to continue his running career at Indian Hills Community College.
"I got here last February and this first recruiting class that came in, I'm from Michigan, so not knowing Iowa a whole lot I had to ask around, ask our runners that came in this year, and see who was worth getting," Indian Hills coach Scott Barnes said. "Colin Poe, one of our runners, he said you got to check this guy out. I took one look at him and said, 'Yeah, he's a college runner.'"
Nowak capped his senior season by finishing 22nd overall at the Class 2A state cross country meet at Lakeside Municipal Golf Course in Fort Dodge on Nov. 1 in 17 minutes, 26 seconds. The Falcons finished 12th as a team.
It was a fitting end for a runner L-M cross country coach Jaron Byrum said took a big step to become the Falcons' No. 1 runner.
"A lot of it was just his hard work as he got older," Byrum said. "It was from continuing to tell him it's those little things — lifting, summer running, all the little things — will get you to that point. Finally, as he got older, he really realized all those little things do make a huge difference. And they did his senior year as he was able to come out and do a lot of things that people, not necessarily didn't expect, but he just really came out his senior year and showed everyone what he was capable of."
It made his final season more enjoyable than any other and got Nowak looking to extend his career.
"I ran during the summer so I was more into it and more dedicated," Nowak said. "When I was more dedicated, I produced better times. I was running really good this year."
Choosing to continue his career at Indian Hills, an NJCAA school located in Ottumwa, Iowa, was an easy choice for Nowak because Barnes personally reached out to him. He liked that Barnes, who just finished his first season at Indian Hills, is a younger guy.
It didn't hurt that Poe, and his former Wapello teammate Evan Bartenhagen, run for the Warriors.
"I was little nervous about going and running with kids I've never even met before, but then, knowing [Poe] — I talk, I text him every once in a while, we still kind of stay in contact — it's kind of nice," Nowak said. "I know when I go there I'll have someone to talk to and introduce me to new people."
And Nowak should have an opportunity to compete for a top-seven spot next season, though he will have to adjust to running 8,000-meter races (5 miles) in college as opposed to the 5K races (3.1 miles) in high school.
"He's definitely gonna be a top-7 runner," Barnes said. "It just depends on that freshman year, how quickly he can catch on to the 8K. Some guys it takes all year, some of them [adjust] right away."
Get in the game with our Prep Sports Newsletter
Sent weekly directly to your inbox!