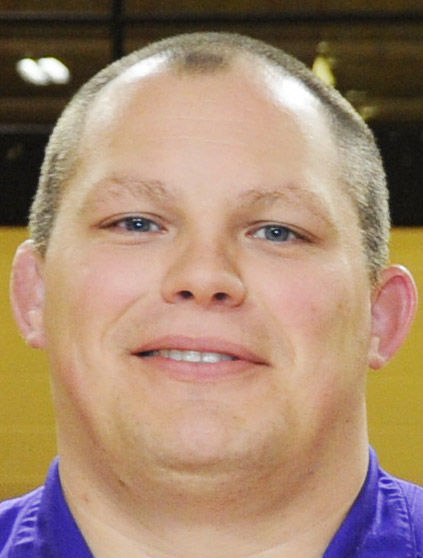 MUSCATINE — Wade McLeod is shifting away from Muscatine's high school wrestling program so he can focus on his own little Muskies.
McLeod, head coach for the past four seasons, submitted his resignation from the program in late February. He said the decision was a tough one and "bittersweet," but lies in being better able to manage his home life in helping to raise his five boys, the oldest of which will be a fifth grader this fall.
With three of his five boys in the Little Muskies Wrestling Club, McLeod expects to stay involved with that program.
"I'd like to see this class of 2018 through," McLeod said, "and I hope I'm still welcome as a volunteer coach in the program. By that time, our boys will have endless activities we'll have to manage at home as well."
McLeod was a volunteer coach under his predecessor Robert Struthers for two seasons before taking the head coaching job prior to the 2012-13 season.
McLeod is also a Muscatine wrestling alum, qualifying for three state tournaments and reaching the podium in two of those during his Muskie career where he won the most matches in school history with a 137-17 overall record.
"It's been a fast four years," McLeod said. "I'm very proud to give back to this program that gave so much to me growing up in the system and I'm thankful for all the support received from parents and my employers over the course of the last few years."
McLeod coached two state qualifiers in his short stint as coach; Tony Nunez at 106 in 2013 and Ed Sanders in 2014.
Sanders, coming off a broken fibula five months prior, wrestled his way to the podium as a 6th-place finisher as a Class 3A heavyweight, and McLeod's only placewinner during his tenure.
"I wouldn't have expected to only have one placewinner, but being able to motivate Edward Sanders, that's a great memory," McLeod said.
"We had a great senior class last year and fell short, that still stings and will for quite some time, and there's so much promise with our kids now. ... But it'll be good if we can get somebody in the school on a day-to-day basis keeping track of these kids and recruiting a few more bodies out of the hallways."
McLeod's future as a wrestling head coach for Muscatine is not sealed, however.
"Nothing's changed for how much I want to see this program succeed," McLeod said. "If, years from now, I found an opportunity to be back in a full-time role at the high school, obviously the door's still open on that opportunity."
Get in the game with our Prep Sports Newsletter
Sent weekly directly to your inbox!