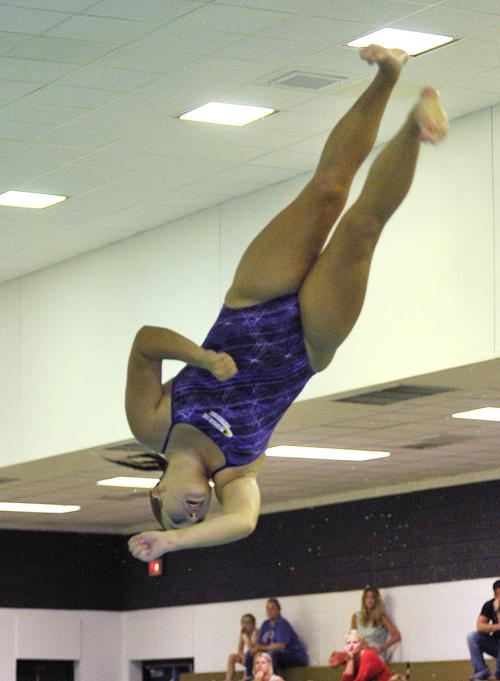 The stakes are raised this season for Jaycie Klein.
At least, that's how the Muscatine senior diver looks at it.
"I've been practicing more. I'm more determined," Klein said. "It's my senior year and I want to do really well at state."
A three-time state qualifying diver, Klein enters the homestretch of her final high school season performing as well as she has in her career — she currently holds the best score in the state this season in the 1-meter dive (6 dives) and the second-best score in the 1-meter dive (11 dives).
Getting to this point has not been without its missteps, but she's put herself in position to achieve her goals, starting with clinching a fourth straight trip to the state diving meet in Marshalltown in November.
"She's put in a lot of work to do this. She's been to camp. She's worked with the diving coach up at Augustana [College] some and the diving coach up at Coe [College] when she can," Muscatine girls swimming coach Judd Anderson said. "(The Klein family's) made a big commitment."
On Saturday, Klein, who holds Muscatine school records in the 6 and 11 dives, accomplished something she had yet to do during her already successful Muskie career: Winning an 11-dive invite title.
She scored 507.55 to claim the title at the Little Hawk Invite against a field that included five of the top 10 teams in the state girls swimming power rankings. Her score is second-best in the state behind Ames freshman Jayna Misra, who scored 517.10 on Sept. 12 at the Ames Invitational.
"She just was confident in her dives this weekend," said Triscia Klein, the Muscatine diving coach and Jaycie's mom. "She even threw her harder degree-of-difficulty dives this weekend, ones that would score more points."
Anderson pointed out that Jaycie was well ahead of her score at last season's state state diving meet (467.20) when she finished a career-best fifth, something he felt was noteworthy considering the field.
"You get in a good competition and there's several of them doing the same dives," he said. "The tendency is not to award them quite as high to try to spread out the difference."
Jaycie has performed well during the first three weeks of the season despite admittedly struggling some after hitting her hands on the board during a practice with one of her club coaches at Coe late last month. She was practicing a reverse 1½ pike dive, one that requires getting close to the board.
Returning from hitting the board can be a mental block that some divers can struggle to get over, according to Triscia, a former Muskie and Northern Iowa diver.
"You kind of have to take a few steps back. Some girls when they hit, they're done," Triscia said. "She's hit twice now. She hit once her sophomore year on inward. She's pretty self-motivated to get through it."
The dive came from the forward position, which Jaycie admits isn't her best position. She feels she is best from the back position (her back faces the pool), one she's made big improvements in.
"I used to be almost back to the shallow end because I would go out so far," Jaycie said of her back dives. "I really learned to stand it up."
A significant part of improving her forward-facing dives may come in her approach before she even leaves the board.
"She learned the hop-step as opposed to just walking up. She learned the hop-step last year," Triscia said. "Supposedly, it gives you more height on your dives. She does it well but she doesn't feel quite as comfortable with it yet. It has improved her dives tremendously."
The growth is noticeable, and Jaycie feels good about how she's performed so far. She'd like to win the state diving title but, ultimately, a top-three finish is the goal because she knows the competition is strong.
Among her competitors are the two returning divers that finished above Jaycie at last season's state diving meet: Fairfield's Katherine Mueller and Pleasant Valley's Claire Park, two divers she competes against and with regularly.
"They're ... both good, too. They push me harder to be better when I compete against them," Jaycie said. "I really have the drive when I'm competing against them because I practice with them for club."
College diving is something Jaycie aspires to do, too. She's interested in several schools, including Minnesota State Mankato and UNI, who was at the Little Hawk Invite on Saturday.
"I was really determined to be good because the UNI coach was actually there," Jaycie said. "I pushed myself really hard to make sure I did well."
That type of performance isn't unusual for Jaycie, which could bode well for her finishing the season the way she'd like to.
"She's much more of a meet diver than a practice diver," Triscia said. "The adrenaline and the competition motivates to her to get that little extra 'umph' that she needs."
Get in the game with our Prep Sports Newsletter
Sent weekly directly to your inbox!