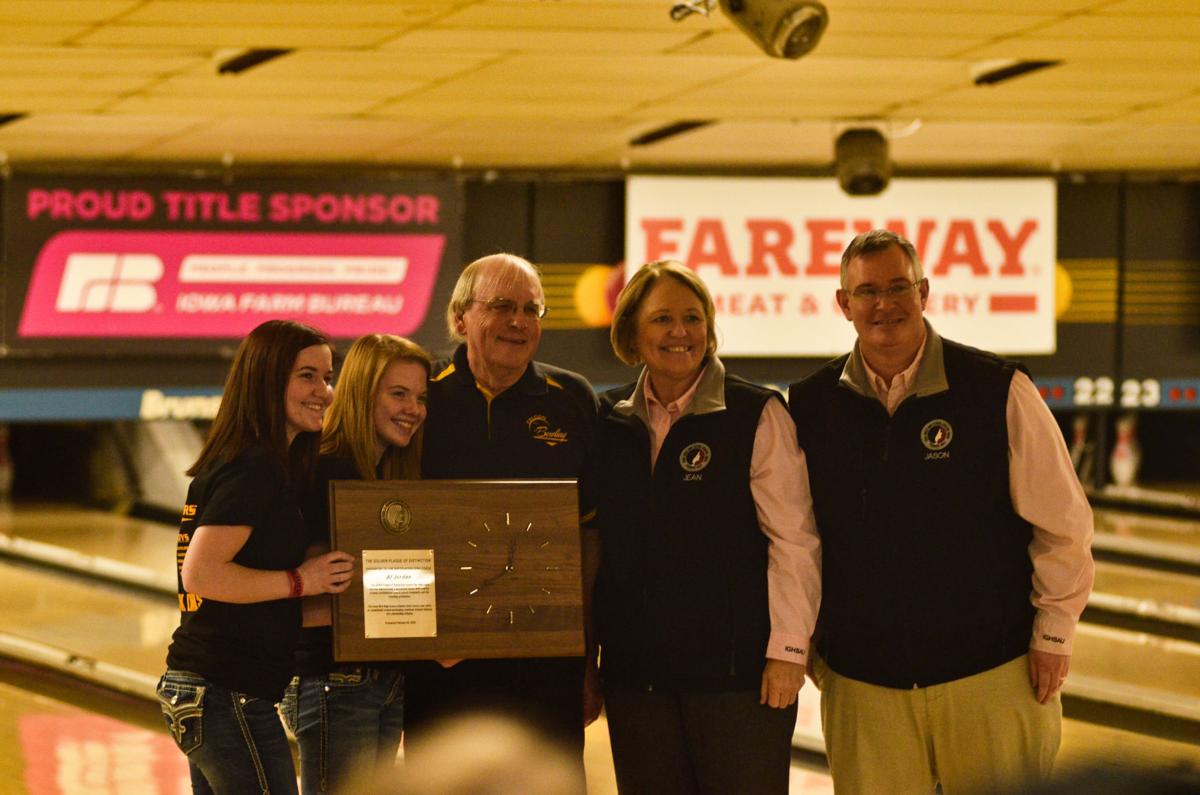 The graduating class of 2020 took as much talent away from area bowling teams as perhaps any other sport. But that isn't stopping this season's teams from keeping sky-high expectations.
"They're ready to step up and prove they can do it," Louisa-Muscatine coach Al Jordan said. "This season is a day-by-day thing, but they understand the circumstances. We hope everyone stays safe and healthy, but if someone wants to go bowl, we'll bowl.
"I've seen a lot of teams over the years, but with the teams we have this year, they all want each other to excel."
Durant and Louisa-Muscatine both sent boys teams to the Class 1A state tournament to cap off the 2019-20 season.
Of course, L-M sent its girls team as well.
The Falcon girls team set a state record in 2019 by capturing a third consecutive state title. And the team made it four in a row in 2019-20.
But between the three teams that concluded last season at state, none return the high-scorer from last season.
"This is more of a team sport than anything," L-M senior Madisyn Gerdts said. "Especially in the Baker games, we rely on each other to build up the momentum and motivation and to get better."
"One thing I've noticed is, one thing people don't notice about bowling, is that if one member of your team is down, you're pretty much done," said Hannah Anderson, a Louisa-Muscatine freshman.
Meanwhile, the Muscatine Muskies were unable to send either team to the Class 3A tournament last year, but look to get back there after the Muskie girls team took second and boys fifth to conclude the 2018-19 season.
"The ultimate goal is to make it to state and give the kids every possible experience we can give them," Muscatine girls coach Mindy Stoltzfus said.
Muscatine wasn't immune to losses of the graduating class, either, as Gabi Evans and Caleb Sterbenz, both among last season's team leaders, have moved on.
"It's definitely somewhat of a rebuilding year," Muscatine boys coach Triscia Klein said. "We have a couple seniors who are strong leaders for the team and we have a lot of new bowlers who have just gotten into the sport, and their averages have gone up probably 30-40 pins, even in limited practices.
"The amount of growth they've had without having the number of practices we should have had is encouraging."
For the Muskie girls, some of it is just a matter of turning practice results into big scores during matches.
"There's a lot of us who do really well at practice, but then when we get to the meets, the pressure builds. But hopefully we can keep our attitudes positive and do our best to turn it around." 
Muskie Noah Miller is certainly doing his part in the early part of the season to make sure MHS ends its season back at Cadillac Lanes in Waterloo, site of the state finals.
"The lead up to this season has been super fun," Miller said. "The group we've been surrounded by has been amazing ... It's great to see (underclassmen) grow and we hope to bowl a good season."
Miller posted a perfect 300 game Tuesday night against Davenport Central, helping Muscatine to an early-season win over the Blue Devils.
Durant graduated Drew Henderson, who placed third individually at state last season by bowling a 476.
But the Wildcats return junior Kayden Johnson, who held a 202.75 average last season. And the team also boats five players who have an average of 180 or better through the early part of this season in Johnson, Cooper Huston, Brady Meincke, Zachary Pearlman and Zachary Pearlman.
Louisa-Muscatine lost Dustin Beaham from the boys team and Whittney Morse on the girls side.
Morse, now on the women's bowling roster at Hawkeye Community College, ended her prep career as one of Iowa's most accomplished bowlers as she won three straight 1A individual titles.
The Falcons still have plenty to lean on in 2021.
Keaten Bieri returns for his sophomore year after ending his freshman campaign on a high note, taking fourth at state with a score of 466 as the Falcons took second as a team.
"I'm really excited this year, with how good we've been doing early on, even without any seniors, we're looking at it as being about getting better for next year, too," Bieri said.
Although Bieri finished two spots ahead of Beaham as an individual last season, it was Beaham's 229.4 game average that led the Falcons. Bieri's freshman average was 210.2.
The Louisa-Muscatine boys roster this season includes no seniors and two juniors, so 2020-21 is about continuing the past success while also easing into a new chapter for the program.
Although the Falcons girls bring back a bit more experience, much of the same mindset the boys team has taken on applies.
Despite the loss of Morse, the Falcon girls still return two bowlers who placed inside the top-10 at state in Gerdts and Jersey Lessenger.
Lessenger, a sophomore, took fourth at last year's state tournament with a 438, Gerdts, a senior, was eighth at 375.
The team also gets some reinforcement in senior Clair Wilson, who is out for bowling for the first time, but through four games played, is second on the team with a 210.25 average. Gerdts has the early team lead at 219.25.
"I regret (not going out the past three years)," Wilson said. "I'm definitely trying to keep up with these girls."
For all the teams, however, they are not dwelling on those lost. Instead, this season is about opportunity.
"We'll have this year and next year with the exact same team," said sophomore Allen Stauffer of the L-M boys team.
"I feel like it's more than a team this year, we're a family," L-M junior Zach Robertson said.
Amid all the uncertainty coming with a season played during the COVID-19 pandemic, area bowlers are not only looking at the external competition of opposing teams, but also embracing friendly, internal competition amongst their own teammates.
"I'm glad we're back and we can compete, even with all the restrictions," Muscatine junior Makayla Delano said. "Hopefully we can bowl to the best of our abilities.
"As we joined, we lost some of the bowlers that had previously taken (Muscatine) to state, but we're hoping to make the most of (this season)."
The void left by such accomplished bowlers of the past has left room for advancement within the team, yet there's enough leadership returning to make sure that it stays in good nature and all eyes remain on the team prize that will hopefully present itself back at Cadillac Lanes.
"There's definitely competition, everyone wants to do as well as they can," Muscatine senior Marcus Madsen said. "But the main focus is just to have a good time and cheer everyone on. If someone else is bowling good go congratulate them or if a teammate is doing something wrong, try and help them out."