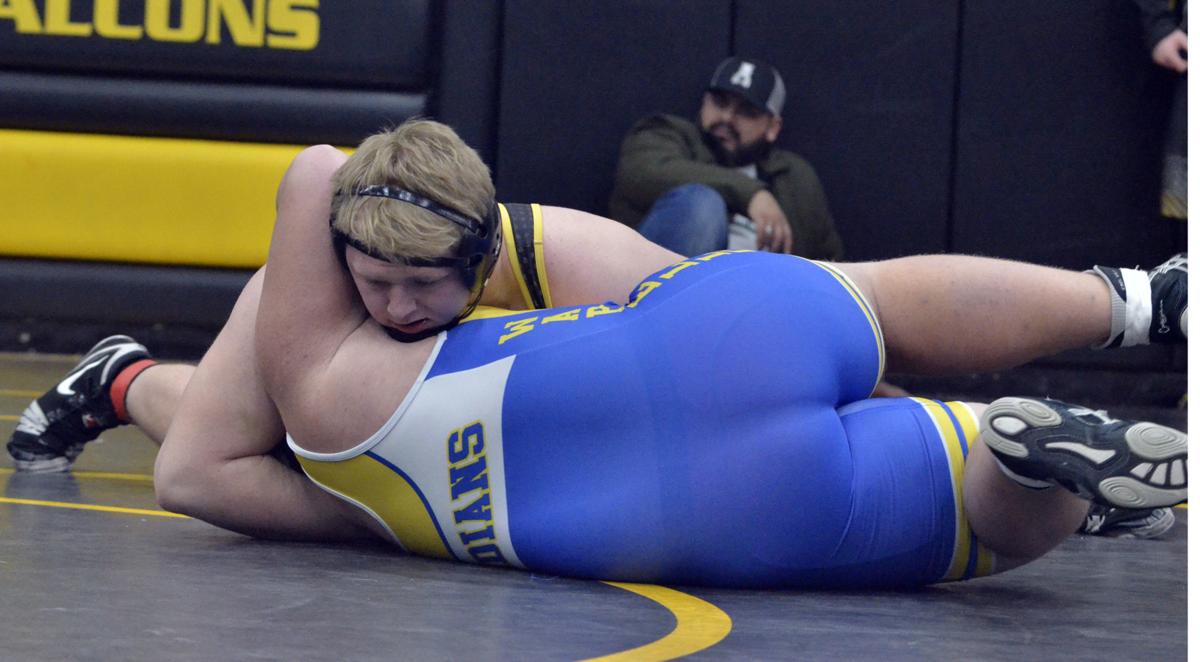 LETTS, Iowa — On the wrestling mat, Louisa-Muscatine senior Gabe Hayes has proven to be something of an immovable force.
Off the mat, his gregarious personality is as infectious as it is endearing. His easy-going style makes it easy for the people around him to turn him into the force that moves.
"Gabe's a real likable guy, he treats people the right way. He's fun to watch wrestle," said Louisa-Muscatine head wrestling coach Tom Mashek. "He'll help anybody do anything. … Even teachers know that, especially if they need something lifted or moved, they know Gabe's the guy to ask … and he'll be like 'sure, no problem.'"
Hayes takes it all in stride.
"If you want to joke around and stuff, he's always ready for it, (he) always has a smile on his face and is just really pleasant to be around," said Mashek. "If he's got something good going he's going to share it with you, and if there's something bad, you wouldn't know. … He's just got a great attitude."
But that's not to say he doesn't take certain things seriously. When it comes to competition, he's fierce. How can he not be with a 19-2 record on the mat this season?
"I would say my on and off switch turns on when they announce my name to be on deck and in the hole," said Hayes. "That's really when I start getting fired up and ready to wrestle."
The L-M senior is ranked eighth among Iowa's Class 1A 285-pound wrestlers, according to The Predicament. But the L-M senior is just focused on what's put in front of him on a day-to-day basis, no matter what the rankings say or who the opponent is.
"I try to not pay attention to that because I get more focused on that than actually wrestling," said Hayes. "I honestly didn't even know I was ranked eighth."
Hayes wrestled in two matches at the Class 1A individual state meet as a sophomore, which was somewhat surprising given his 16-18 record.
After missing out on a return trip as a junior but finishing the season with a 29-9 record, Hayes has his mind set on getting back to state to end this season. When he made it during the 2017-18 season, L-M was Class 1A. During Hayes' junior year, the school was bumped up to 2A. Now they're back at 1A, making Hayes' path to Des Moines that much clearer.
"I'm just working hard in practice and doing everything I can to get better every single day," Hayes said.
Being such a successful heavyweight, and not having a weight class above him, makes things a little more difficult for the Falcons to keep competition around him in practice.
Their solution has been a combination of 220-pound freshman Spencer Kessel and a group of coaches. 
While the staff has had to get creative getting in-house competition around him, the senior credits his coaches for his success.
"The coaches are where the greatness comes from," Hayes said. "They help our team more than we ask them to. I am grateful for all of the coaches I have had through the years of playing sports."
While all his practice buddies are notably smaller, they do bring a challenge to Hayes as far as quickness.
Not that lateral quickness is a weakness by any means, Hayes has shown plenty of that not only on the mat but on the football field as well throughout his high school career.
Listed in the football program at 6-foot-2, 290 pounds, Hayes was the Falcons' third-leading tackler on defense with 47.5, behind teammates Hayden Calvelage (57 tackles) and Chase Kruse (52).
"The L-M wrestling and football programs mean everything to me. They both have taught me parts of life that I would have never known about," said Hayes. "They both have taught me how sweet victory tastes and how sour losing is. Both programs have made me the person I am today and I thank them both for that.
"I am proud of my accomplishments but I am not satisfied with what I have accomplished so far. I have not yet attained (all of) my goals."
Be the first to know
Get local news delivered to your inbox!