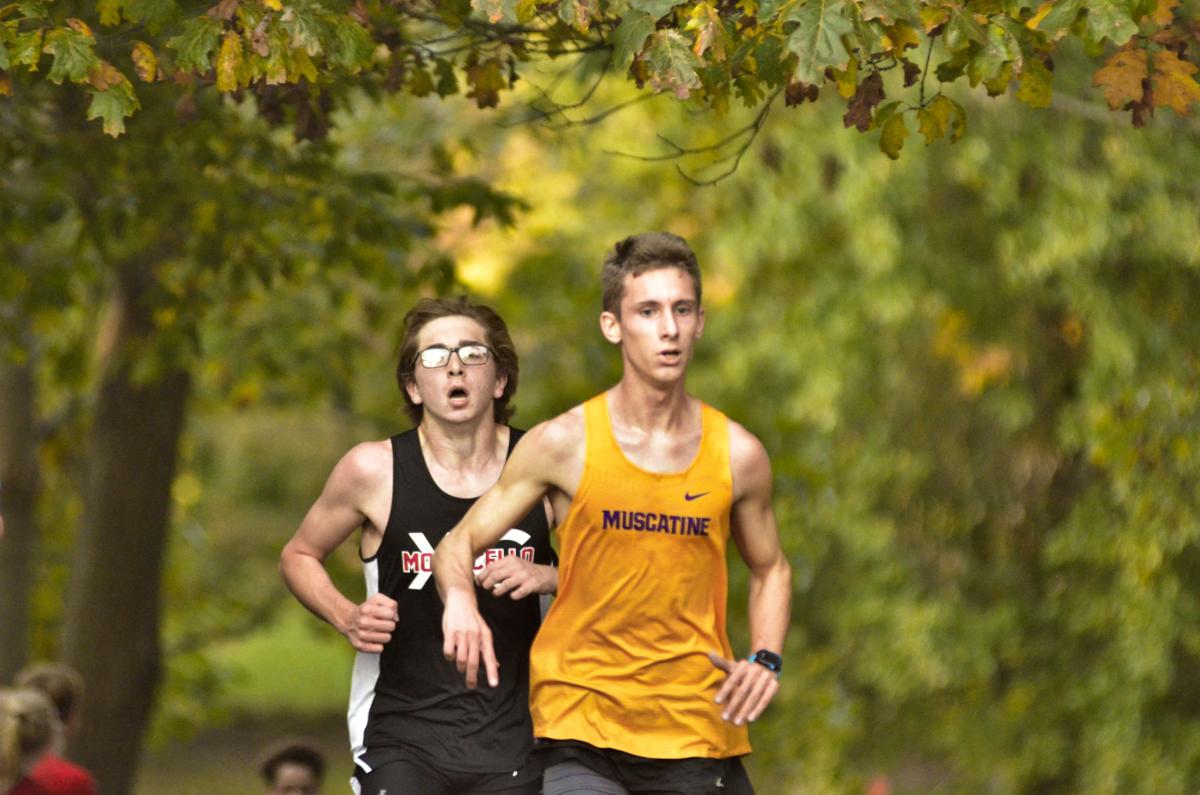 DeWitt, Iowa — Although the Muscatine boys cross country was only able to sneak one runner into the top 15 at Thursday's Jim Hetrick Invitational, the Muskies' depth carried the team to a fourth-place finish.
Muscatine's girls team wasn't quite as successful but had an encouraging showing, nonetheless, taking seventh in an 11-team field with a score of 178.
Davenport Assumption was the top girls team at the event, held at the Grace Lutheran Camp in DeWitt. The Knights registered a low score of 57, with senior Laney Fitzpatrick the top individual finisher with a time of 19:50.41.
North Scott was second on the girls side with a score of 88. Monticello (93), Davenport Central (117) and Clear Creek-Amana (132) rounded out the top five in the large-school division (Class 3A and 4A).
Monticello topped the boys side with a score of 68, edging out Clear Creek-Amana at 69. 
North Scott (83) sneaked in ahead of the Muskies (94) for third.
Junior Sam Gordon was the top Muskie finisher for the boys team. Gordon took 14th with a time of 17:42.79.
With the top five runners counting for the team score, placing all five in the top 33 propelled the Muskie boys. Senior Trevor Diederichs was the sixth Muscatine runner to cross the finish line, recording a time of 18:30.35.
To illustrate the Muskies' depth, Diederichs was the first competitor to finish whose time didn't go toward a team's top-five score.
"This is our last meet before our conference meet," said Gordon. "This meet gave us a clearer picture of what that meet will look like."
Junior Aidan Armstrong wasn't far behind Gordon, taking 17th in 17:47.55. Senior Logan Kirchner was 26th right at the 18-minute mark and seniors Aidan Daufeldt (32rd) and Joel LaRue (33rd) led a pack of Muskies ahead of Diederichs (34th).
"(Depth) is our biggest strength this year," Muscatine boys head coach Chris Foxen said. "The guys run really well at practices together, and today we ran better as a group.
"Some guys have really risen to the occasion, we're on the better end of some things now. ... I like how the guys ran today. They've responded well to workouts we've been doing and they grouped together pretty good."
The three of them finished between 18:27 and 18:31.
Wilton and West Liberty also sent runners to the meet, though neither ran enough members to receive a team score in the small-school division (Class 1A and 2A).
The Comets had junior Ashton Burroughs take 50th, crossing the finish line a few seconds under the 19-minute mark.
"We only had a small group run," West Liberty head coach Mike Hart said. "But the kids that ran all competed really well, almost — if not everybody — ran their season's fastest (time)."
Sophmore Jake Walton took 69th for the Beavers at just a shade over 20 minutes to complete the 5K race.
Wilton also had a couple underclassmen on the girls side with respectable finishes. 
Freshmen Hanna Rogers (22:49.24) and Ava Barrett (23:26.12) finished 39th and 48th, respectively. And Beaver sophomore SeAnn Houghton took 59th (24:15.46).
Nick Dohrmann, head coach for Wilton, was happy with his team's performance, though the Beavers sent an incomplete squad to the meet.
"Unfortunately, we didn't have our full squad," said Dohrmann. "But this meet is good competition, a great chance to see where you're at against some different competition. ... From here on out, we want to be at our best."
The Muskie girls also had to rely on a strong showing by some underclassmen, as Muscatine only has one senior on the roster.
Gwen Kuhl, the lone MHS senior, registered a time of 23:18.28, good for 47th, and was the third Muskie to finish.
Sophomore Taya Melendez was the first, taking 22nd place (21:49.54).
Junior Karly Ricketts (26th place, 22:02.48), freshman Kiara Hallett (54th, 23:53.89) and sophomore Ruve Roos (64th, 24:25.76) rounded out the scoring for the Muskie girls.
"This was a good, strong meet," Muscatine girls cross country coach Scott Roberts said. "We're a young squad still. I think our future is really bright. We have a couple runners have been battling back and forth (to be our top finisher). I like the leadership this group has. Our future is bright and we're building for that."
Be the first to know
Get local news delivered to your inbox!