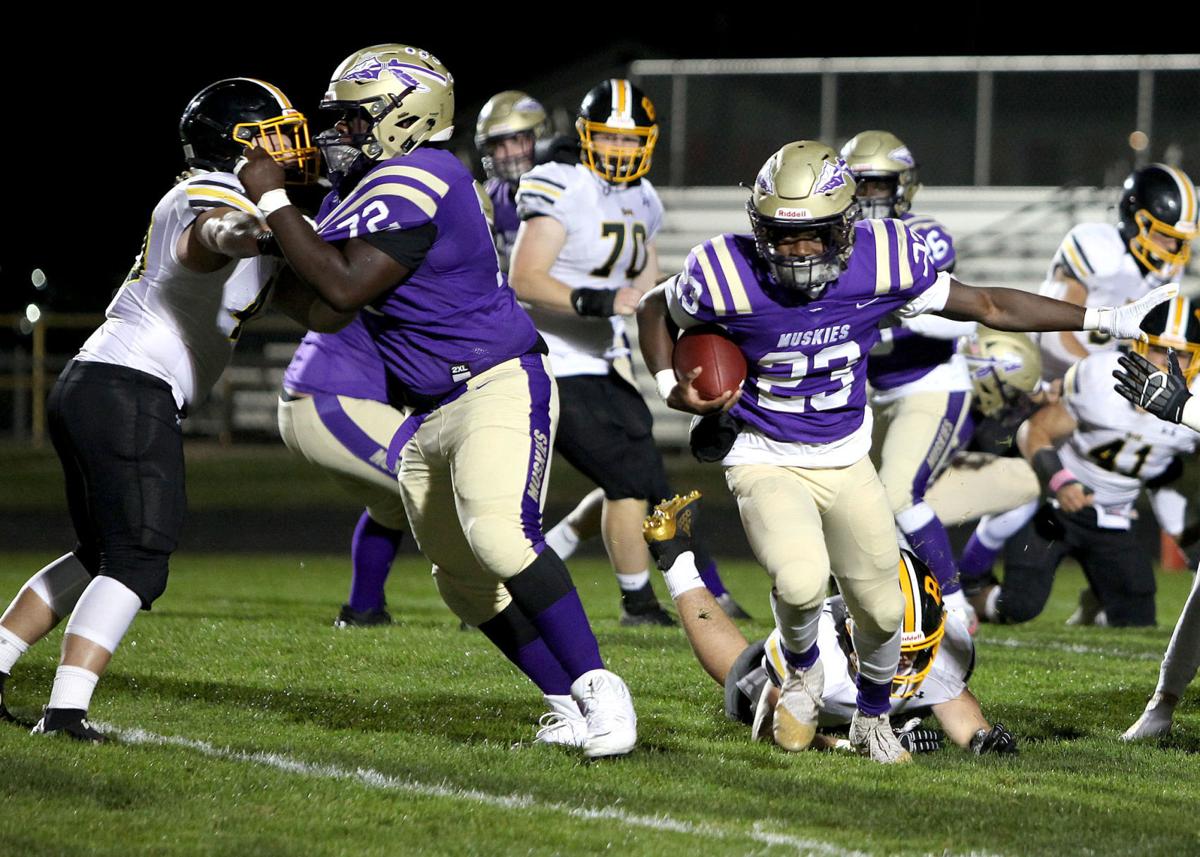 Muscatine isn't expecting a different game stylistically when it lines up for a rematch against the Bettendorf Bulldogs, but the Muskies are hoping for a different outcome as the sides meet in the second round of the Class 4A playoffs.
When they met on Oct. 2, the game was tied at seven at halftime.
Bettendorf then proceeded to explode for two touchdowns in the third quarter, proving to be the difference as the Bulldogs captured a 21-7 win in Muscatine.
This time around, the Bulldogs will host when the game kicks off at 7 p.m. on Friday night.
With no game last week since there were only four games across the state in Class 4A, the Muskies used the bye week to rest, get healthy, study film and accommodate some underclassmen the team decided to move up to varsity for the playoffs. 
"We spent the bye week really focusing on the fundamentals and some basics about Bettendorf," said senior linebacker Josh Thomas. "Then this week, we really focused fine-tuning our game plan and figuring out how we want to take them on.
"I remember getting pulled up my sophomore year, and it really put into perspective the community the football program has and how they all love each other and work hard for each other."
Though the Muskies aren't back to total health — if that's even a possibility at this point in the season — the team feels refreshed after winning three of four games to close the season and being idle last week.
When Bettendorf came to MHS, the game unsurprisingly was a tough, physical contest that started with Muscatine senior linebacker Reed Ulses scoring a defensive touchdown to give the Muskies a 7-0 lead when he ripped the ball away from a Bulldog receiver.
Muscatine (3-4) is expecting a similar, hard-nosed tone to the game this week but is also hoping its offense can do more damage, as the Muskies were held to 113 yards total offense.
The Muskies' 99 yards on the ground marked their lowest output since a season-opening 26-0 loss to North Scott.
Bettendorf (4-2) didn't fair a whole lot better when its offense was on the field, though, going for 201 yards. The Bulldogs, however, benefited from a few MHS special teams blunders and turnovers.
"We're familiar with them," said Muscatine coach D.J. Hawkins, "but they're probably going to add things that will make it hard to prepare for. But as for our mindset ... I think it's a benefit (having already played Bettendorf), especially with it being a close, hard-fought game. We know it's going to be a physical game.
"That Monday after the first game, we showed our players that if we could've changed (a few plays), it could've went the other way."
Bettendorf's main offensive threat in the fist meeting was senior running back Ryan Cole, who had 107 yards rushing and three touchdowns.
However, the Muskies' run game, and special teams, suffered due to the absence of senior offensive lineman Caden Roberts, who was injured. The Muskies also expect two-time all-state senior running back Tim Nimely to be as healthy as he's been all season.
"We shortened practices up (to get players healthy), and that gave us an opportunity to watch a lot more film with the kids and really show them things," Hawkins said. "We wanted to make sure we're comfortable and ready to roll."
MHS has managed Nimely's workload thus far this season, as Nimely has dealt with multiple lower body injuries.
"We've had a lot of injuries, especially these last couple weeks," Thomas said. "Having the extra week off really helped everyone recover and helped them to focus mentally and really be ready for the game."
Even though the Muskies weren't as effective on the ground against Bettendorf earlier this month, Muscatine still ranks sixth in Class 4A with 1,538 rushing yards on 317 attempts.
Pleasant Valley leads 4A in that category with 2,114 on 271 tries.
"Obviously, we made mistakes (against Bettendorf), otherwise we would have won," said Thomas. "It's always important to learn from your mistakes and we saw a lot from our film that was really important. ... I feel like we're really ready.
"It's cool to see everyone coming together toward the end of our season. We feel like we're playing our best football, maybe even in our four years being here. I'm excited to go play."
Be the first to know
Get local news delivered to your inbox!