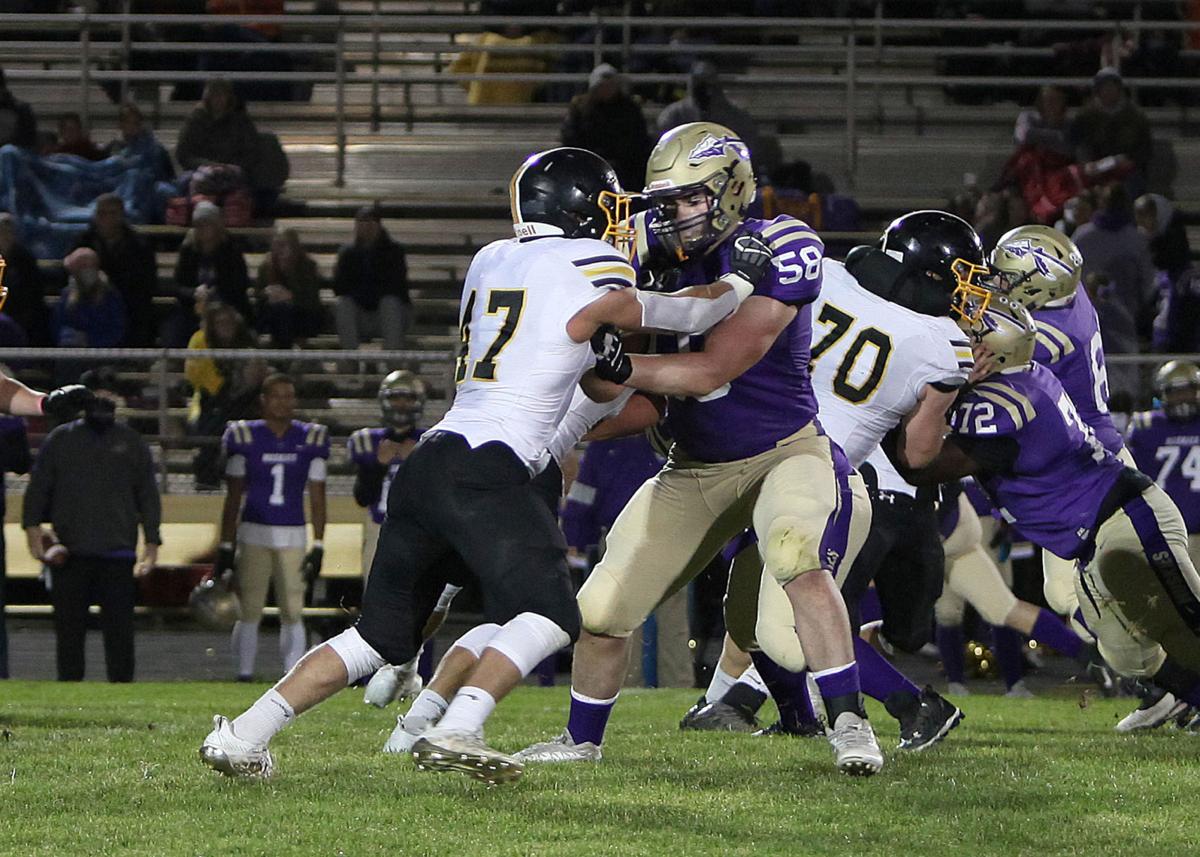 Although its been the Muscatine offense that provided the electricity needed for the Muskies to rip off consecutive wins in Weeks 4 and 5, the Muskie defense has brought the power all season.
Last week, the defense provided the points, too.
Against Bettendorf last Friday, senior linebacker Reed Ulses overpowered a Bulldog receiver running along the sideline, and ended up going 21 yards the opposite way for a touchdown. At the time, the score put Muscatine up 7-0.
"I just went to make the tackle, and as I wrapped him up, he left the ball a little loose, so I just pried at it a little bit," Ulses said, "and then, (the ball) was in my hands and nobody was in front of me."
Ultimately, the Muskies were defeated by Bettendorf, 21-7. Field position and penalties put the defensive unit's back against the wall. But the Muskies are hopeful those mistakes have been fixed.
"We focused on us," head coach D.J. Hawkins said. "We've been doing a good job there, but the penalties came back to bite us and field position, we found out that everything is important, offense, defense and special teams."
But at 2-4, Muscatine feels better than what the record might suggest. And with the changes made to this season that puts every team in the postseason, the Muskies can hang their hat on the fact that the schedule has the team battle-tested and ready for whatever the playoff pairings may throw at them.
"On Mondays we always do film review, and we go through our corrections, and I tell them 'We're there, we competed with two of the better programs in the state.' PV is undefeated and Bettendorf is traditionally there," said Hawkins. "We just need to learn how to finish and quit hurting ourselves.
"We're excited to have another week at home and another week to get healthy."
Heading into Week 7, past MHS opponents sport a combined record of 19-13. If you don't count winless Davenport West, that mark becomes 19-7.
In preparation for the regular-season finale against Davenport Central (1-5), Muscatine is confident about ending with an opportunity for another victory.
The team is also confident in the defense showing up as the unit ranks seventh in Class 4A in tackles for loss with 43. Davenport North leads that category with 75.
Despite a record of two games below .500, the Muskies' point differential for the season is still a respectful minus-14 (98 points scored to 112 allowed).
That number becomes even more notable factoring in a bad fourth quarter against Clear Creek-Amana in which MHS was outscored 20-7 and the season-opening 26-0 shutout loss to North Scott.
With senior Eli Gaye inserted at quarterback since then, Muscatine is hardly the same team since those first two weeks.
Defensively, the Muskies have eight takeaways through six games, led by senior Prince Wei's two interceptions and two fumble recoveries apiece by Ulses and junior David Wuanti.
Heading into the season, Hawkins said he wanted the Muskies to be ready to compete by Week 3 as the team compensated for missed offseason time because of the COVID-19 pandemic.
Since that mark in the calendar, Muscatine is 2-2 but, perhaps more importantly, is outscoring opponents 77-45.
With Central slated for Friday night, the Muskies go up against a team that, like Muscatine, has made a quarterback change this season.
Whether because of COVID-19 or other factors, going through multiple signal-callers is a trend Hawkins has noticed across the prep football landscape.
"(Central) is in the same boat as a lot of teams," Hawkins said. "Lots of (different) rotations and different quarterbacks playing this year … but (the Blue Devils) definitely have guys that are talented and can do some things. … It's been interesting to see the number of teams that have shuffled things around."
Regardless, the Blue Devils' offense has remained balanced.
Central comes into the game against MHS having accumulated an even 700 yards through the air and 847 rushing.
Behind center, it's been junior Nate Hummel taking snaps for the Blue Devils the past few weeks.
Hummel is 31 of 54 passing for 429 yards with two touchdowns against three interceptions.
Senior Brian Mitchell and Dane Howard are Central's top weapons out of the backfield.
Mitchell has amassed 237 yards on 47 carries and four scores while Howard has 161 yards on 22 tries with one touchdown.
Hummel has also proven to be a running threat, leading the team with 293 yards on 59 totes and two touchdowns.
As far as rushing yards, Muscatine again checks in at seventh in Class 4A with 1,276.
Friday night, though, it might be the Muskie defensive backfield that sees a bit more action.
With juniors Kellen Rush and Dylan Graves, the Blue Devils have a duo of wideouts that have combined for 30 catches and 444 yards.
But the Muskies feel up to the task.
"We just want to maintain field position and get off the field as quickly as possible," said Ulses. "We want to give our offense time to work … especially with how different this season is, (a lot will depend on) getting hot at the right time."
Be the first to know
Get local news delivered to your inbox!