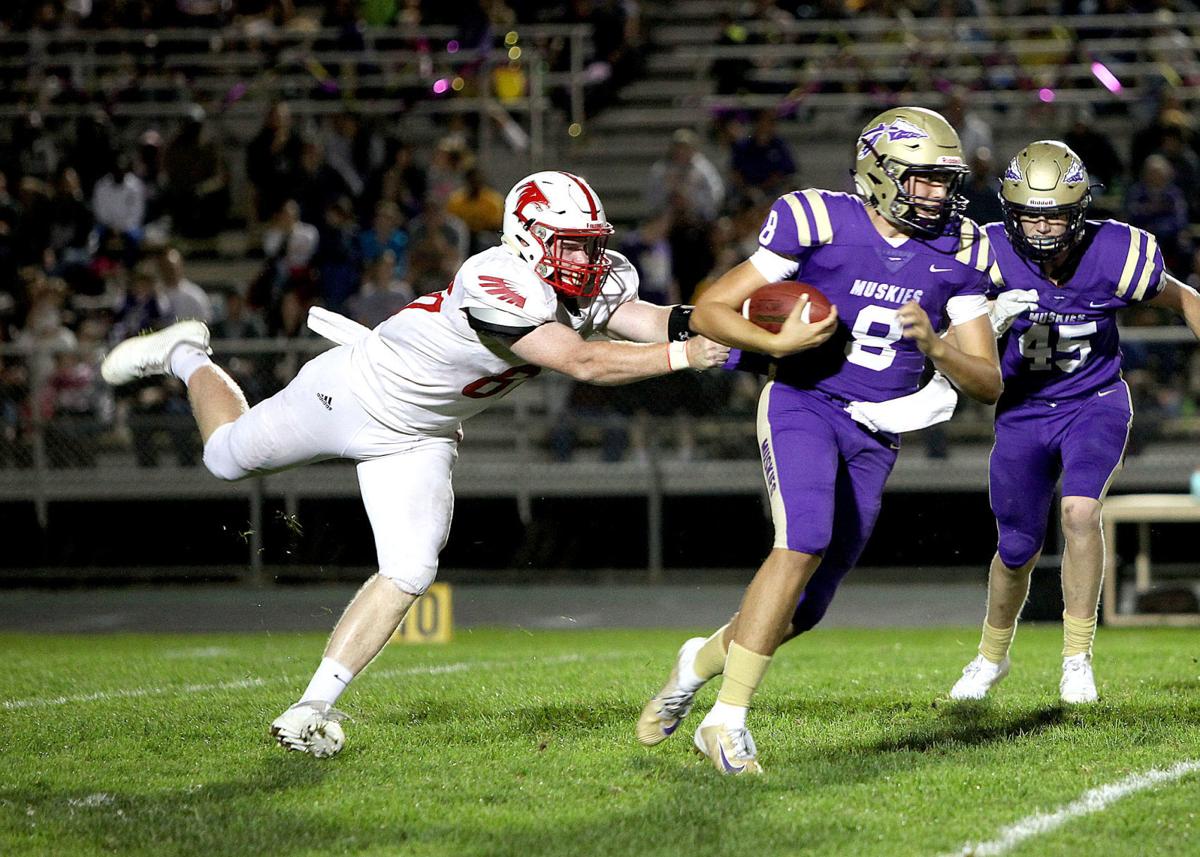 Jake Mueller doesn't care what it looked like. His Muscatine football team needed to find its way into the win column in the worst way Friday night, and that's exactly what the Muskies did.
"We needed a win," Mueller said. "The defense is leading the way. It's an ugly win, but we don't care, we'll take it right now."
Muscatine's defense controlled the game as it held Davenport West to 174 yards of offense in a 13-7 win Friday in a on homecoming in Muscatine.
The Muskies improved to 1-2 on the season while the Falcons dropped to 2-1.
The Muskie defense got contributions from players at every position, but perhaps none bigger than junior outside linebacker Reed Ulses. With junior Mentor Cooper filling in for an injured Tim Nimely at running back, Ulses took over full-time at outside linebacker.
Ulses took advantage of the opportunity.
Whether it was stuffing the run, deflecting passes or delivering a monstrous hit as Davenport West quarterback Payton Thompson delivered a three-yard pass on fourth-and-eight with under two minutes left, Ulses was everywhere Friday night.
"It's definitely the most playing time he's got, he's just come along," Mueller said of Ulses. "We felt good about him. He came in late in the summer and we've tried him at five different defensive positions. He's a really good football player, a good athlete and has a tremendous attitude.
"He just keeps getting better."
It wasn't always pretty for the Muscatine offense, which was held to 204 yards, but that unit made plays when it mattered most. The Muskies touchdowns – a 13-yard pass from Zander Morgan to Eli Gaye and a five-yard run by Morgan – both came on fourth down.
"We didn't make the key plays last week and tonight we made a couple key ones," Mueller said. "It's nice to be able to make a couple clutch fourth down plays to get points on the board."
Friday marked the first start at quarterback for Morgan, who had been on the wrong side of a timeshare with senior Sam Wieskamp. Wieskamp, who passed for 45 yards, still got reps, but it was Morgan who started the game and played almost the entire second half.
Morgan passed for 45 yards, rushed for 16 and accounted for both Muscatine touchdowns.
Cooper filled in for Tim Nimely at running back, as the junior standout didn't play Friday due to a lower leg injury. Nimely, who suited up and went through warmups, wore a walking boot during the week.
"(Tim) was really close (to playing)," Mueller said. "I think he could have gone but it was my decision. I knew Mentor would step in and do a good job."
Cooper rushed 16 times for 90 yards, including a 17-yard scamper in the final minute to ice the game after a fourth-down stand by the Muskies' defense.
Morgan led 12 play, 47-yard touchdown drive to put Muscatine ahead 7-0 on its first series of the game.
Cooper took a shovel pass from Morgan for 20 yards to put Muscatine inside the Davenport West 10-yard line to set up the first touchdown. The Muskies converted a pair of fourth downs on the drive, including one on fourth and goal that ended in a five-yard rushing touchdown from Morgan with 7:29 remaining in the first quarter.
However, Davenport West responded in the third quarter.
Quarterback Payton Thompson completed three passes to spark the Falcons, and Cameron Carter finished off the drive with a one-yard touchdown plunge to tie the game.
The Muskies hit back with a methodical 12 play drive featuring Morgan and Cooper in the rushing attack. However, the Muskies capped it off through the air with ended with a 13-yard touchdown pass from Morgan to junior Eli Gaye on fourth down with 11:06 remaining. Gaye had five receptions for 51 yards in the game.
The Muscatine defense took it from there, as it stopped Davenport West on fourth down at midfield with under two minutes remaining to effectively end the game.
"The defense made a lot of big plays," Mueller said, "just played solid all night long, played tough. The offense made plays when it had to."