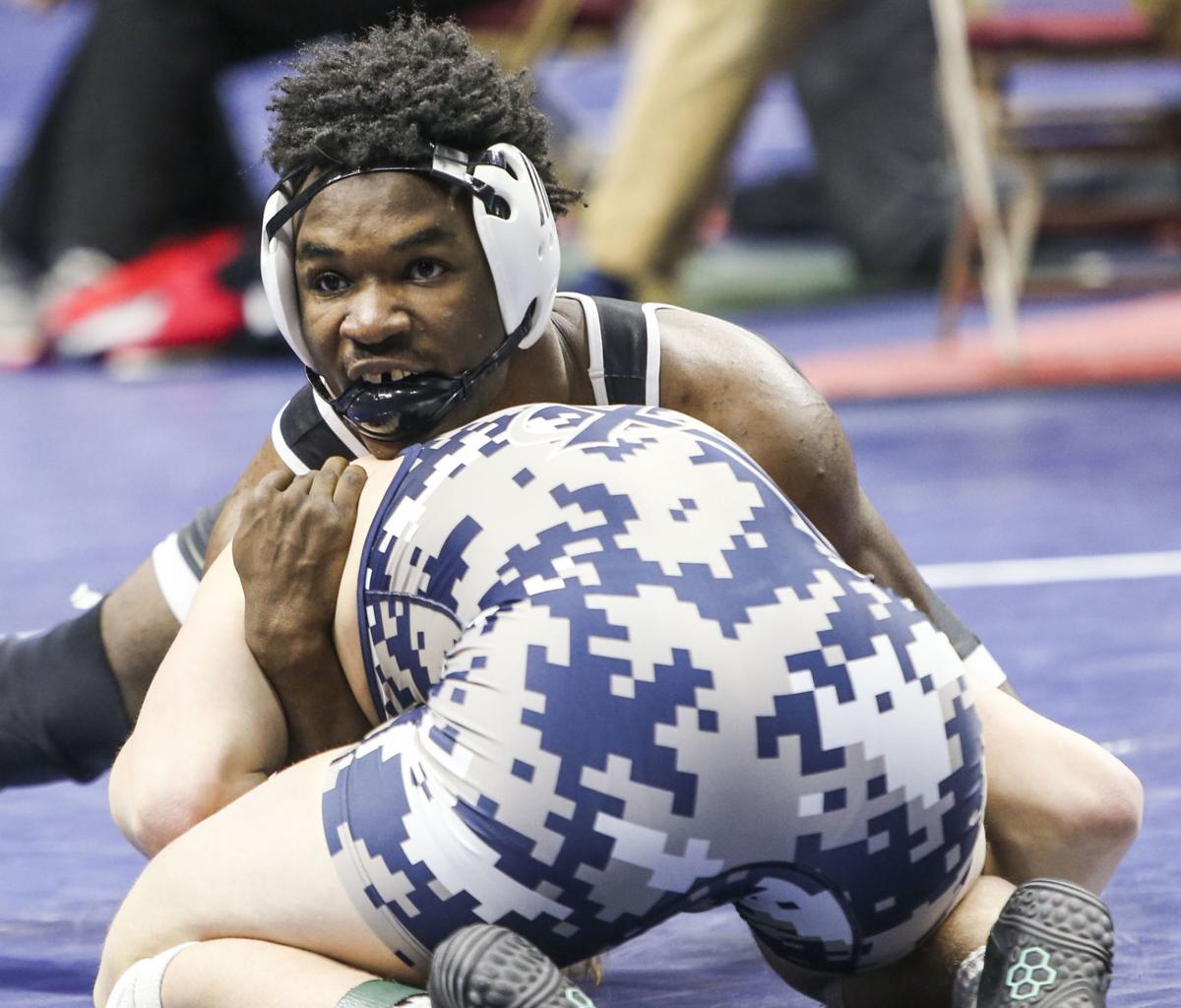 DES MOINES — Tim Nimely and Togeh Deseh, two of the most accomplished wrestlers to come through Muscatine's program in recent memory, put a bow on their careers Saturday at the state tournament.
After a semifinal loss Friday night, Nimely split a pair of matches on Saturday to finish fourth place at 170 pounds in Class 3A. Deseh pulled out an overtime win in his final bout to place fifth at 285 pounds inside Wells Fargo Arena.
"I don't know if I want to hang up my shoes just yet," Deseh said. "I know I'm going to, but I might have to come back and coach in the next five to 10 years. I am going to miss this.
"During the season, you don't always like it, but during the offseason it is one of the sports I miss the most. Just knowing I'm not going to be able to do it anymore is hard."
Nimely and Deseh are off to play football at NAIA power Grand View University.
For Nimely, he finished his career as a three-time state qualifier and two-time state place winner. He amassed more than 125 career wins.
"Watching guys practice in the room my freshman year really motivated me to be great, be different," Nimely said. "To be a three-time qualifier and two-time placer, it is one of the biggest achievements Muscatine wrestling has had in a while and I'm grateful for that."
Nimely defeated Southeast Polk's Andrew Reed 5-2 in the consolation semifinals before getting pinned by Iowa City West's Ashton Barker — who came into the state tournament unbeaten — in the third-place match.
Nimely finished the year 36-3. In all three losses, he was pinned.
"I know to my standards I could have done better, but it is the state tournament and sometimes you don't get what you want," Nimely said. "There was a lot of good, but I just wished I capitalized on more, especially in the semifinals. I wish I would have attacked more instead of being flat-footed."
Deseh closed the season with a team-high 40 wins.
After getting pinned by Waukee's Ben Reiland in the consolation semifinals, Deseh executed a takedown on the edge of the mat in sudden victory against West Des Moines Valley's Bryan Jurado for a 5-3 win.
"Just knowing it was going to be my last match ever, I wanted to go out with a win rather than a loss," Deseh said. "I had to push myself to get that last takedown.
Deseh said his initial reason to come out for wrestling in high school was to have fun. It turned into a passion.
"Now looking back at it, all the work I put in and placing here is a really big accomplishment for me," he said. "I know there are a lot of kids who would want to be in my shoes that don't have the opportunity to be here.