At the time, Ed Froehlich had no idea what he was getting into.
He had gotten back into running after being on the track and cross country teams at Davenport West High School about a decade earlier, and he competed in this relatively new, fairly modest hometown race called the Bix 7 in 1978.
He was a bit surprised when Tony Gott, the director of the Bix 7, invited him to be his replacement in 1980, to take on the job of overseeing the race. Gott had grown frustrated after two years in the volunteer position and had famously predicted that with 800 runners, the race had "outgrown the city.''
Froehlich accepted the opportunity, figuring he would do it for a year or two.
Forty years later, he's still doing it.
The little race has multiplied in size many times over, has become one of the signature events in the Quad-Cities, regularly attracts runners and walkers from around the globe and now includes more volunteer committee chairmen (115) than it had runners (84) when it debuted in 1975.
Froehlich, who long ago became a nationwide icon and a driving force in the sport of road racing, will oversee what is now known as the Quad-City Times Bix 7 one last time on July 27 before handing the reins to long-time assistant Michelle Juehring.
He insists he won't miss being the director of one of the largest and longest running races in the country. At 72, he's ready to kick back and look back in pride at what he helped create.
And there is a great deal of which to be proud.
"I'm most proud of the way the community has embraced it and most proud of the people that have helped,'' Froehlich said. "I have high school friends that I've known for 50 years who are the chairmen of some of these committees. It's been a wonderful experience for me to deal with all the class people, competent people who do the race.''
'Just brilliant'
Froehlich's four decades of stewardship of the Bix 7 have brought about astonishing growth and innovation. He has had the perfect blend of leadership, salesmanship, business sense and vision, all sprinkled with a jovial jocularity that is deviously endearing.
"He's just brilliant,'' said former Quad-City Times editor Dan Hayes, who has become one of Froehlich's closest friends. "Sometimes he doesn't act brilliant. He likes to make fun of himself for being dumb, but he's actually brilliant.''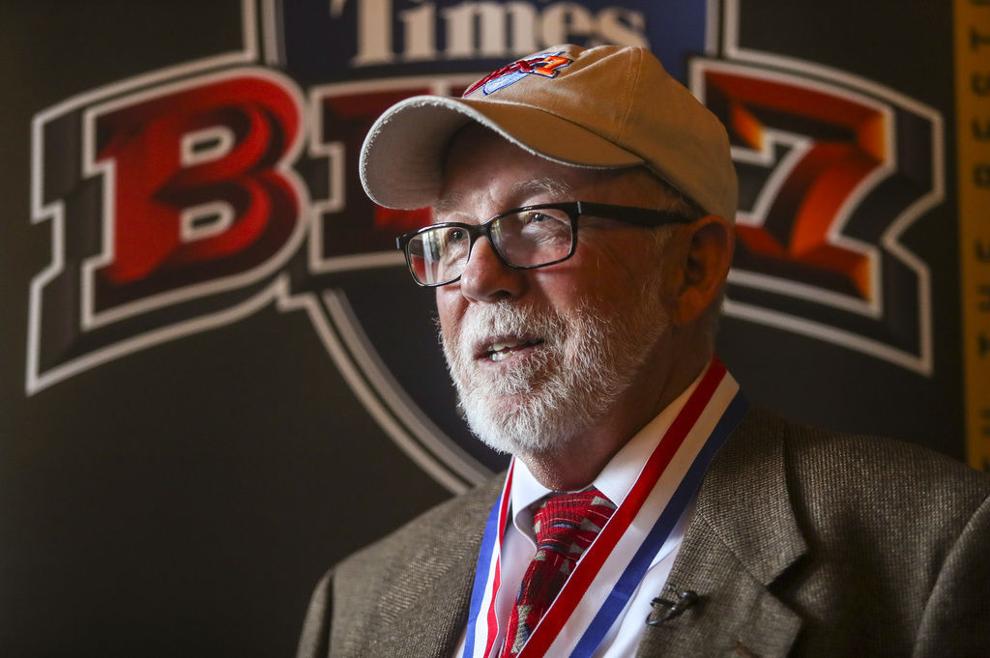 Juehring, who has been training to be Froehlich's replacement for the past 18 months, has seen that brilliance manifest itself on several levels, including the way in which he deals with the race's growing legion of sponsors.
"He's a family man, and he is loyal,'' Juehring said. "The businesses he works with are capable and quality and top-notch, but he also is loyal to them and sticks with people.''
She's even been amazed by his math skills. At times, the two of them will be discussing some sort of financial matter pertaining to the race and she will just be starting to fumble with a calculator when Froehlich spits out the answer.
"He's got it done and I'll just look at him, and he'll give me that Ed smile,'' Juehring said.
Ellen Hermiston, Froehlich's long-time secretary who has been the Bix 7's operations director, cites her boss's passion and energy as his greatest assets. Those infectious qualities give him an innate ability "to get everyone to fall in line with the plan.
"He asks and people find a way,'' she said. "He's pretty darn persuasive. If he's not insulting you, he's persuading you.''
Those leadership qualities were apparent all the way back in high school, when Froehlich was student council president at West. The salesmanship and business acumen also come very naturally.
It's automatic
It did take some time for Froehlich to learn to delegate and trust others to do the job. But he's picked that up, too, assembling a network of committee chairmen who operate almost on auto-pilot with virtually no supervision.
Hayes likens his old friend to "an orchestra leader.''
"I think a big part of the success of the race is the chairmen,'' Froehlich said. "When it started out, about 15 people put the thing on. Now we have 150 different committees and 5,000 volunteers.
"We don't have any meetings,'' he added. "We have no meetings about how to put the race on.''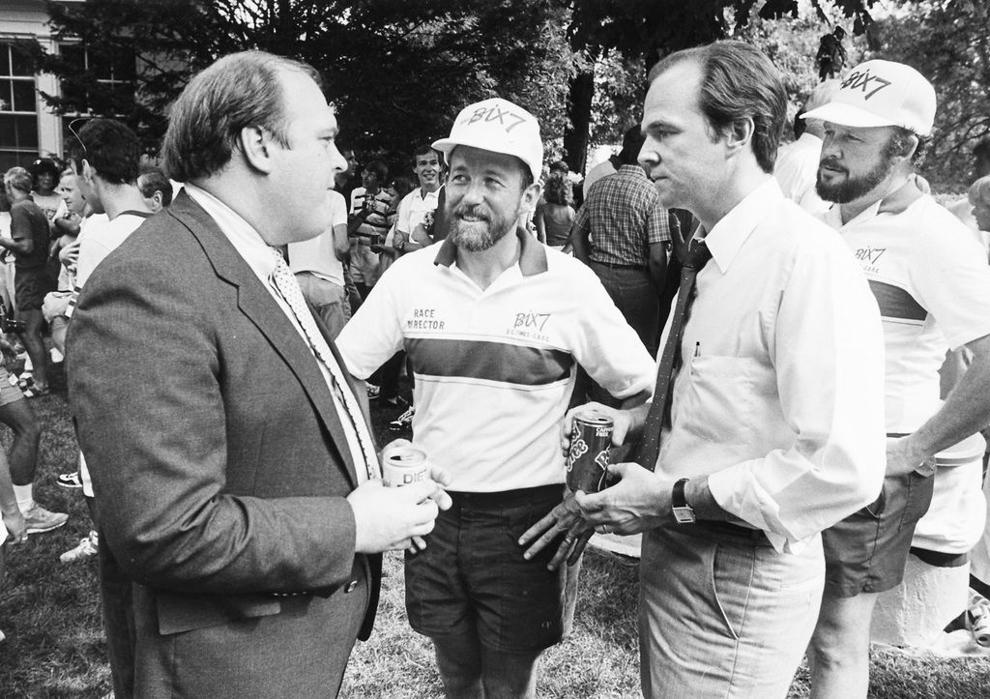 Many of those committee chairmen have been with him for several decades. Some were high school chums.
But even those who have not been around as long get their marching orders upfront and are expected to follow them.
"Once we get somebody, I give them the job and I tell them 'It's your responsibility to make this work. And if it doesn't work, then we have a problem,''' he said. "So it's just automatic. The race is automatic.''
"He doesn't micro-manage,'' Hermiston added. "He just says 'Here's your job. Do it.' And they do.''
Froehlich said he has found it preferable to scale down the number of things for which people are responsible. For example, the starting line was once one large committee. It now is five.
"I've tried to keep it simple,'' Froehlich said. "I don't want them to feel overburdened, because then they'll quit. They're not getting paid, so you want to be careful that you're not overworking anybody. Everybody has their own little segment. It's theirs. They want to do it right because that's the makeup of the kind of people that we have. They want to do a good job.''
Many of those committees are spearheaded by couples, husband and wife teams who have taken on a certain aspect of the race. Froehlich has done that by design.
"That's important when you're volunteering your time,'' Juehring said. "He tries to make it work so the whole family can be part of it.''
Steady growth
Being the race director was a much smaller job when Froehlich stepped into the job in 1980, but the race began growing almost immediately under his regime.
From that 800-runner throng in 1979, it nearly doubled to include 1,500 runners in 1980.
Froehlich deflects the credit for that initial growth.
It was assistant race director Jim Schrader who suggested that the Bix 7 invite marathon icon Bill Rodgers to come to Davenport for the 1980 race. The United States decided to boycott the Moscow Olympics that year, which left Rodgers with little to do. Rodgers decided to run the Bix 7, and his presence helped swell the size of the field.
Froehlich received another welcome surprise the following year when representatives of the Quad-City Times approached him with the idea of sponsoring the race. It was the idea of Times general manager Bill Johnston, but publisher Ron Rickman and Hayes quickly embraced the sponsorship.
Hayes vividly recalls his first impression of Froehlich.
"Brash,'' Hayes said. "But not as brash as he is now. He actually was a little more reserved then, but he still had all the fire you needed. You could see that.''
The alliance with the Times helped bring a new level of publicity and attention, and the field grew to 2,500.
The next year it jumped to 4,100. In 1983, it went to 5,620 and continued to spiral upward. By 1987, it was the largest non-marathon road race in the Midwest.
Any thoughts Froehlich had of just making this a one- or two-year gig had disappeared by then.
He had just started working as a State Farm insurance agent three years before becoming the race director but he found a new passion in the Bix 7. Although he was an unpaid volunteer for his first 10 years in the job, he uses the word "addictive'' to describe his work with the race.
"I just dove into it, and it was so exciting meeting all these world class athletes and getting to travel,'' he said. "It was a great match because I had a job where I could get off and do Bix during the day. If I had to do it all at night, after 5 o'clock, it wouldn't have worked. But it just evolved, and it just kept getting bigger and bigger.''
Innovations
The field topped 20,000 for the first time with the 20th anniversary race in 1994 and peaked at 23,182 in 1999, but inevitably there was a modest decline in the number of entries.
The running boom took off with the baby boomer generation and as those people aged, many stopped running.
But the Bix 7 did not decline as much as most other races, even though it is held in a less populated community than most major races.
Meanwhile, Froehlich and his committee chairmen kept coming up with new innovations to keep the race fresh.
In 1998, the Bix 7 became one of the first races to add a junior race to get children involved in a running.
The following year, it added the Quick Bix, a two-mile alternative for walkers and less fit runners.
The Brady Street Sprints, an event now held on Thursday night before the big race, debuted in 2001.
In 2002, the Bix 7 became the national championship race for seven miles, paying prize money only to U.S. citizens. That format was used again in 2009, 2010, 2014 and 2017.
The Race for the Jackpot, now known as Beat the Elite, was added in 2004, affording one randomly selected runner a chance to get a head start and win prize money by beating the professional runners to the finish line.
There is now an All-City Challenge; the Greg Newell Trophy, which goes to the top local male runner; the Eloise Caldwell Trophy, which goes to the top local female; and the High School Challenge, which awards money to the booster clubs of the top high school finishers. New this year is a competition among local first responders.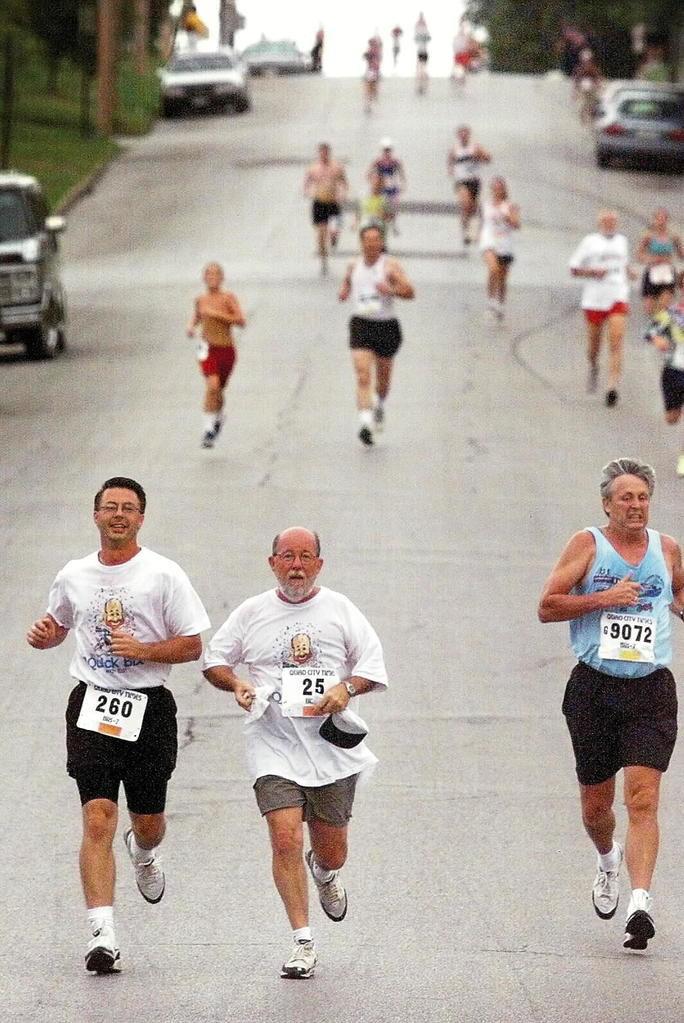 It seems almost every year some new twist has been implemented to keep the event fresh and vibrant.
Not all of the ideas have been original. Almost all of them have worked.
"He has been brilliant in the way he borrows ideas from others and then makes them better,'' Hayes said.
More often, however, Froehlich's ideas have been borrowed by others. Races all over the country now include junior races and shorter versions of the main race along with assorted other sideshows.
"You can't go to a race any more that's just a race,'' Hermiston said.
Weathering storms
Froehlich also has managed to keep the Bix 7 prosperous through sponsorships. The event's first sponsor in 1980 was Roto Rooter, with the Times coming on board as the title sponsor the following year.
There now are 28 sponsors who contribute in some way.
"The community has embraced it,'' Froehlich said. "The city has embraced it. The Times has embraced it. We have a lot of great sponsors that have been doing it for 25, 30 years.''
Still, it hasn't all been smooth sailing.
In one of earliest races overseen by Froehlich, heavy rains caused a malfunction in the timing system, prompting volunteers to do some improvising at the finish line.
In 1993, heavy flooding in Davenport forced changes in the final half mile of the race, placing the finish line on West 4th Street instead of on East 3rd in the Quad-City Times parking lot.
The Bix 7 still attracted 16,859 runners that year, prompting Froehlich to be named national race director of the year and the Bix to be named the country's "most community oriented race'' by Runner's World magazine.
When the Bix 7 first used the American championship format in 2002, Froehlich was confronted with angry protests from NAACP leaders who felt the race was discriminating against the runners from Kenya and other foreign nations.
Froehlich and the race weathered all those storms.
It didn't even miss a beat in 2015 when Froehlich underwent heart valve surgery in June, forcing Hermiston to take on the task of orchestrating the race. All those committee chairmen did their jobs, and the race came off without a hitch.
1947: Ed Froehlich is born in Norfolk, Nebraska, the youngest of nine children.
Sharing the credit
Juehring has been surprised to find that behind his brash, teasing persona, Froehlich is actually modest.
He is quick to emphasize that he didn't do this all by himself.
Hermiston has worked tirelessly by his side for more than 30 years. Hayes has been a huge supporter of the race and has contributed an endless stream of ideas. Dan Breidinger served as the race's elite athlete coordinator for many years and played a key role in cultivating a relationship with American hero Meb Kefelzighi. Karl Ungurean, Allen Harris, Phil and Eloise Caldwell, Jeff Bassman, the late Nancy Kapheim, Paul Schmidt, Juehring and many others have made major contributions over the decades.
"While he's been the brains behind it all, it's the work of all those other little gears that makes the whole wheel turn,'' Hermiston said.
Between 40 and 50 committee chairmen are retiring along with Froehlich, but they were forewarned three years ago that this was coming and were instructed to find and train replacements.
"There will be a big turnover but we'll be covered because we took three years to replace them and train them, and they'll come in and know what to do,'' Froehlich said. "The organization is still good.''
The other person who has contributed greatly to the success of the race is Froehlich's wife of 53 years, Sandy.
"She's the brains behind the operation,'' he said. "If the race has any class, it's because of her.''
Hayes said Sandy very often has been the one to come up with the race's annual promotional slogans.
"She's always in the background, helping him check off his ideas and figure out his good ideas and his bad ideas,'' Hermiston said. "She's as much a behind-the-scenes race director as he is.''
Walking away
Froehlich feels that in some ways, the race may be better off in Juehring's hands. He isn't well-versed in the use of the internet or social media. He said he no longer knows much about the international running scene and pokes fun at his inability to pronounce all the names.
"I still don't know how to say Keflezighi,'' he said. "I just call him Meb.''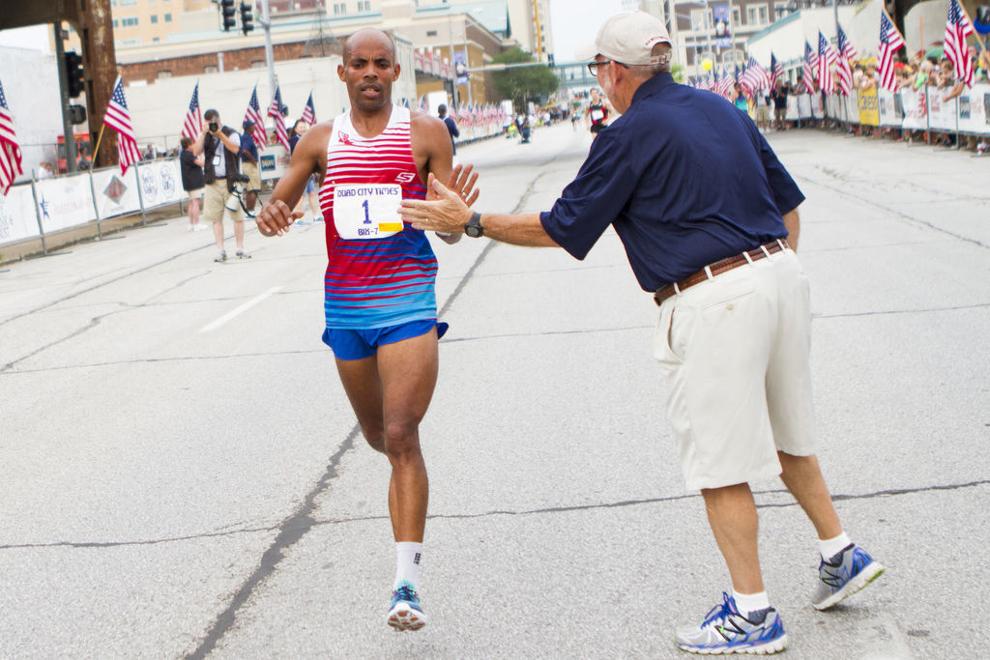 Some are skeptical that he will be able to just walk away.
"I can't believe he's actually retiring,'' said marathon legend Joan Samuelson, who has run the Bix 7 32 times and taken cues from Froehlich in the development of her own race, the Beach to Beacon 10k.
But Froehlich said he thinks this will be very much like when he retired from State Farm in 2012. He was worried then that he might miss that. He didn't.
"As soon as it was over, I was fine,'' he said. "I don't ever think about it. It was done … I know this will be the same way. It's time.''