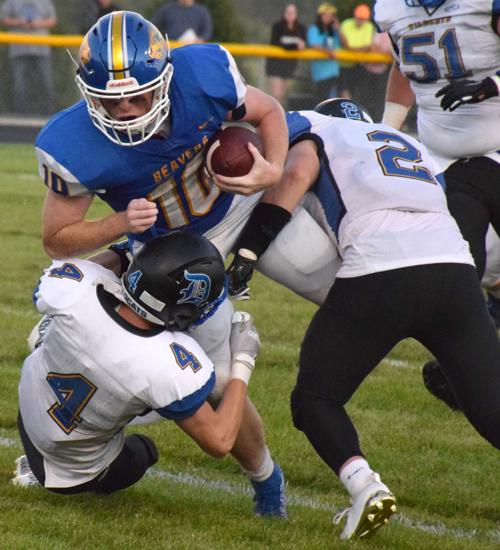 Durant vs. North Cedar
Records: Durant 1-0, North Cedar 0-1
Last week: Durant beat Wilton 24-0, its first win over its rival since 1999. North Cedar lost 34-0 to Tipton.
What to watch for: Durant flexed its muscle in the running game last week behind Joe Lilienthal, the 6-foot-7, 340-pound offensive lineman who is headed to South Dakota State. The Wildcats rushed for more than 300 yards, with 159 of those coming by freshman Nolan DeLong, who averaged 11.4 yards per carry. Drew DeLong added 95 yards rushing. The Durant defense allowed just 130 total yards and intercepted two passes. That unit should have a chance for another strong outing this week against a North Cedar team that despite 229 passing yards from quarterback Ethan Sahr, failed to put any points on the board last week. Sahr threw three interceptions in Week 1, and things don't get any easier against Durant's experienced secondary. Durant won last year's matchup 49-18.
West Liberty at Solon
Records: West Liberty 0-1, Solon 1-0
Last week: West Liberty lost to West Branch 28-6. Solon blitzed Mount Vernon 35-7.
What to watch for: Just like last season, West Liberty is looking to bounce back after a lopsided Week 1 loss. It will be no easy task against Class 3A No. 3 Solon. The Comets' lone touchdown last week came on an 85-yard kick return by Jahsiah Galvan. Will Esmoil led the offense with 96 rushing yards on 12 carries, and Talen Dengler passed for 58 yards but was picked off twice. West Liberty will have to keep up with a balanced Solon offense as quarterback Cam Miller passed for 215 yards and three players topped 60 yards rushing. AJ Coons is the top receiving weapon, and he put up 127 receiving yards and one touchdown last week. Solon escaped last year's matchup with a 7-0 overtime win over West Liberty.
Columbus at GMG
Records: Columbus 0-2, GMG 0-1
Last week: Columbus lost to Highland 55-6. GMG fell to Martensdale-St. Marys 46-8.
What to watch for: The Wildcats have been outscored 93-6 in their first two games. After giving up more than 100 rushing yards in the opener, Columbus was bulldozed up front and allowed 406 rushing yards to Highland last week. Looking to break an 11-game losing streak, Columbus is led by Will Schwab, who has 162 rushing yards and one touchdown this season. First-year quarterback UK Bawi has thrown for 130 yards in two games, but has a 34.6 completion percentage with four interceptions. GMG won last year's meeting 32-0, but was held to just 89 yards of total offense in Week 1.
Louisa-Muscatine vs. Van Buren
Records: Louisa-Muscatine 0-1, Van Buren 0-1
Last week: Louisa-Muscatine fell to Wapello 26-12. Van Buren lost to Cardinal 42-8.
What to watch for: Just like the last few seasons, Louisa-Muscatine proved difficult to stop on the ground, even in defeat, as it rushed 49 times for 310 yards in a loss Wapello. The Falcons were led by Chase Kruse, who totaled 150 rushing yards on 25 carries in Week 1. However, Louisa-Muscatine struggled to find a rhythm passing the ball, as Kruse was held to just 12 yards through the air. Van Buren gave up nearly 250 yards passing in its loss to Cardinal last week and should provide a chance for L-M to find its passing game. The Falcons won last year's matchup between these two teams 41-6. Kruse rushed for 213 yards and two touchdowns in that contest.
Wapello at West Branch
Records: Wapello 1-0, West Branch 1-0
Last week: Wapello beat Louisa-Muscatine 26-12. West Branch topped West Liberty 28-6.
What to watch for: The Indians displayed a balanced attack in their Week 1 win. Senior Ricky Pforts rushed 19 times for 133 yards while new quarterback Tade Parsons passed for 139 yards, highlighted by a 97-yard touchdown pass to Tyler Cooley. The Wapello defense, which forced three turnovers last week, will be tested by another strong rushing attack this week. West Branch senior Tanner Lukavsky rushed for 153 yards and one touchdown last week and Gavin Hierseman added 77 yards and one touchdown. West Branch beat Wapello 49-14 in last year's Week 2 matchup. Dating back to last season, Wapello has allowed seven or fewer points in three of its last four games.
Wilton at Northeast
Records: Wilton 0-1, Northeast 0-1
Last week: Wilton was defeated by Durant 24-0. Northeast lost to Camanche 41-7
What to watch for: These teams only combined for one touchdown and an extra point in Week 1. Wilton had trouble getting anything through the air in their first game, but they may be seeking to take advantage of a leaky Northeast run defense that gave up over 160 rushing yards to Camanche. The Beavers should be concerned about the same area on their own team though as they allowed Durant to rush for just north of 200 yards. Which defense can hold and which offense can manage a big play or two should decide this game. Last year Wilton won this matchup by a 50-8 final but both teams are markedly different this time around.