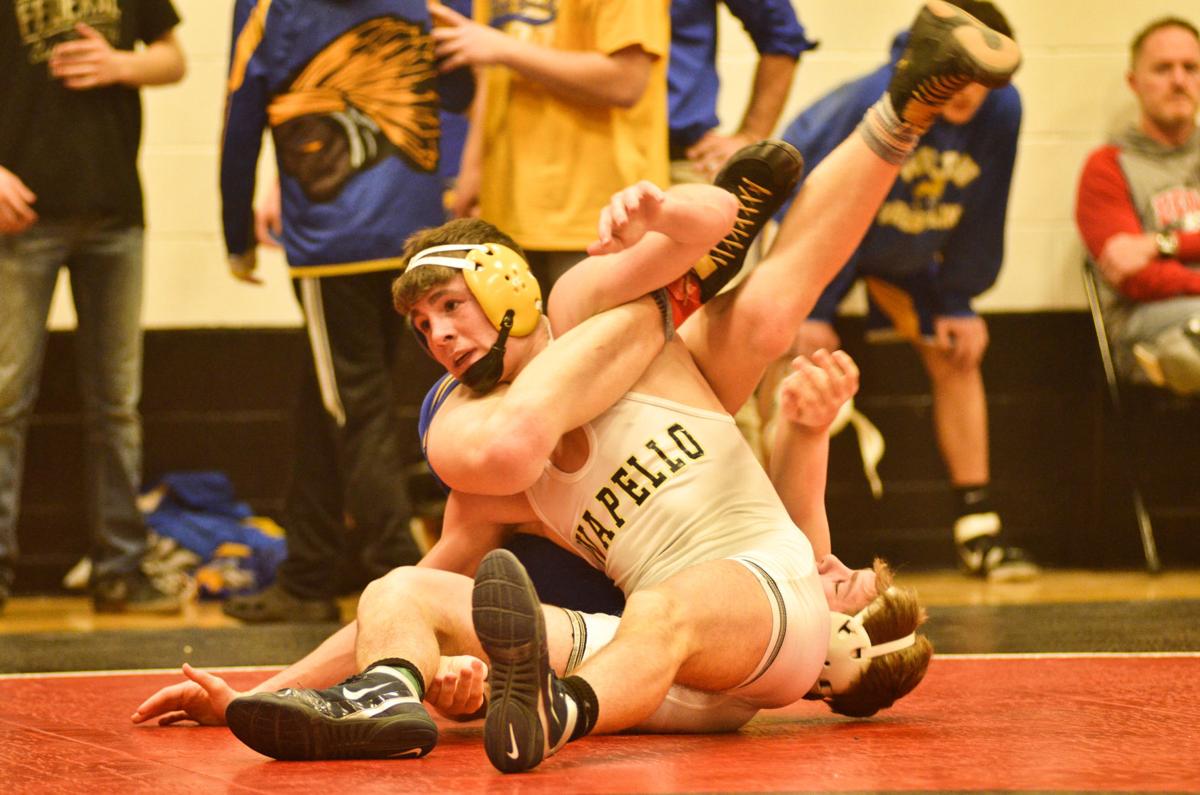 WEST BRANCH — Heading into the Class 1A sectional wrestling tournament, the Wilton Beavers felt battle-tested.
The Beavers' lineup features two 30-win wrestlers in junior Kael Brisker, the 126-pounder who is 33-3, and senior Coy Baker, who owns a 35-1 record at 182.They were the top 1A finisher at the River Valley Conference tournament, finishing fourth behind West Liberty, Camanche and Tipton -- all 2A schools.
On Saturday in West Branch, it certainly showed.
Wilton took the team title with 231 points. It was followed by Wapello in second with 212, Louisa-Muscatine (131.5), Iowa City Regina (107), Lone Tree (72), Durant (54) and host West Branch (48).
The Beavers had 10 wrestlers finish in first or second place, meaning they qualified for the district meet. Furthermore, the team qualified for regional duals. They travel to Gilbertville on Tuesday to wrestle Alburnett. The winner faces either second-ranked Don Bosco or Highland for a trip to state duals.
"Up and down the lineup, we wrestled well today," Wilton head coach Gabe Boorn. "When you can get 10 through … it's a good day."
Baker won his 100th match for the Beavers. However, the senior downplayed the achievement, admitting he thought it was a bit delayed.
"It feels good," Baker said, "but freshman year I got hurt so I had to get here in three years, basically."
"He's come a long way since his freshman year," Boorn said. "It's a nice feather in his cap."
Brisker, the Wilton junior who won his 100th match earlier this season, wasn't challenged too much. He pinned Louisa-Muscatine's Jonathan Cox in the championship bout in 1:54.
"I didn't feel like I made any mistakes today, which was good," said Brisker, "but next week will be tougher … so I'm just focused on next week now."
After Wilton's 106-pound sophomore Gage Oien pinned Wapello freshman Dawson Tipps in the first match of the title round, the Beavers got their second champion when Dalton Snider broke a scoreless tie with a reversal before time expired in the third for a 2-0 victory at 113.
The next match at 120 also required extra time. Wapello junior Chase Witte and Durant sophomore Ethan Gast were locked in an 8-8 stalemate after six minutes. Witte broke the time in the extra session with a two-point winner.
Gast and 113-pounder Noah Grage will advance to districts for Durant.
For the Beavers, freshman Kaden Shirk (at 152) and senior Cameron Keith (170) also won the championship at their weight classes. Juniors Colton Cruse (145), Johnathan Lilly (195), sophomore Briggs Hartley (285) and freshman Trae Hagen (132) will also move on to districts as second-place finishers.
Wapello qualified five with Tipps and Witte, along with first-place finishers Mitchell Moore (senior, 132), Christopher Ewart (junior, 138) and Daniel Meeker (senior, 145). Meeker advances with a 36-1 record.
"We wrestled really hard today, I'm proud of all of them," Wapello head coach Jack Walker said. "It's good for us, it keeps morale up and keeps us motivated, we have our team and family behind (us)."
"It hurts not seeing some teammates you know were capable of moving not move on," Meeker said, "but I hope they keep pushing the kids that did move on and we'll stick together no matter what."
Louisa-Muscatine also got five wrestlers through to districts in second-place finishers Cox, senior Max Mashek (152) junior Hayden Cavelage (160) and Spencer Kessel (freshman, 220). Senior heavyweight Gabe Hayes pinned Hartley in 43 seconds in the 285-title match.
"It feels really good. There's still a bunch of hard work I have to put in," Hayes said, "but there's still more to come."