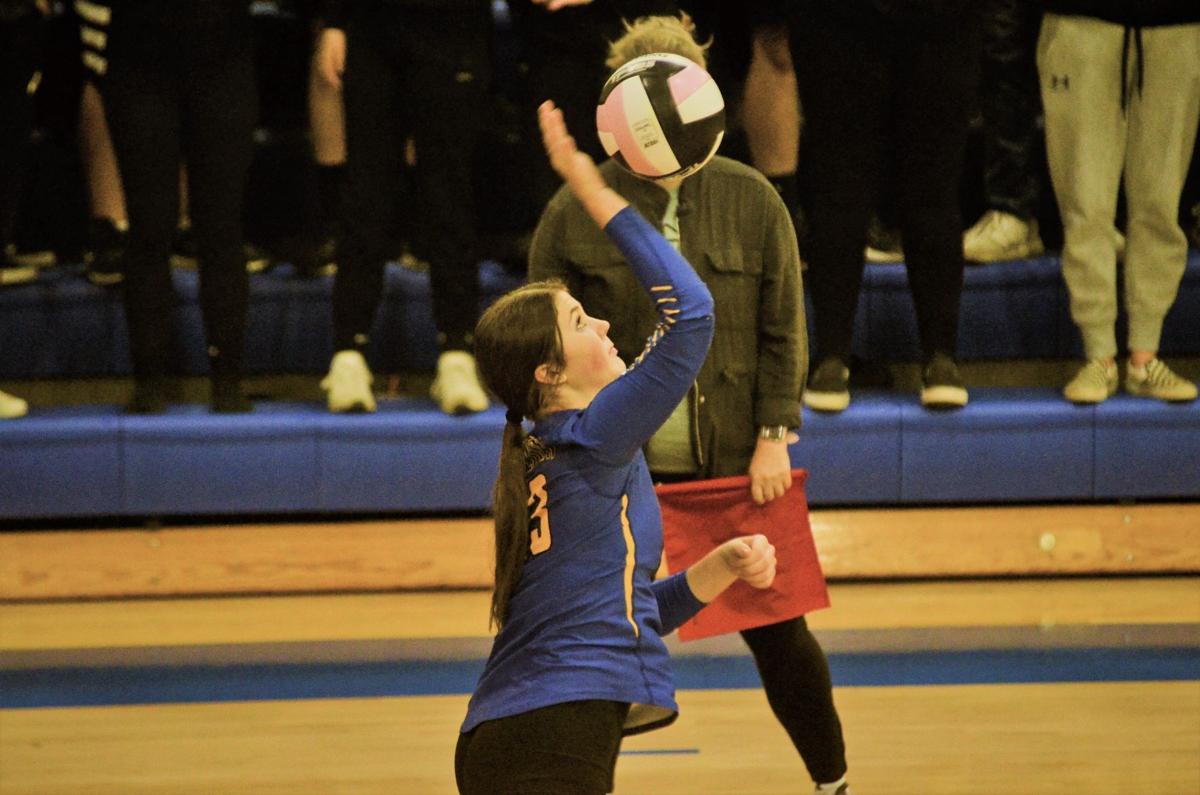 WILTON, Iowa — The Wilton Beavers wasted little time ousting the Louisa-Muscatine Falcons from the Class 2A playoffs Wednesday night and left little doubt as to the team's qualifications heading into the postseason.
The second-ranked Beavers moved on in 2A Region 8 by taking down the Falcons in straight sets, 25-10, 25-5, 25-8. With Wilton winning on its home floor, the Beavers advance to play Columbus (12-13) in Durant at 7 p.m. on Monday.
"We talked about three goals this week," said Wilton head coach Brenda Grunder, "Communication, staying aggressive and ball control with serving and receiving, and that was really good tonight."
Wilton rallies came often and with little regard for the opposition.
The Beavers did a little bit of everything, but it was the damage done holding serve that proved too much for L-M.
"Serving-wise, (we) really hit the zones tonight," Grunder said. "We mixed up short and long, and that was successful for us. And we stayed aggressive on the block. We had some goals for tonight, and I think it worked out for us."
Wilton had 14 aces on the night, led by sophomore Taylor Drayfahl and junior Peyton Souhrada, each of whom finished with four.
Alexa Garvin recorded three aces and enjoyed a nice all-around performance, going for seven digs, three kills and two assists while adding a solo and assisted block.
Louisa-Muscatine's moments of opportunity were few, but junior setter McKenna Hohenadel was able to record a dozen assists, six of which went to senior Kylee Sanders.
A Sanders kill put the first point on the board of the evening by either team, but that 1-0 Falcon lead to start the match would prove to be the only Louisa-Muscatine lead of the night.
Hohenadel was the only Falcon to notch an ace on the night.
Louisa-Muscatine would briefly tie the score at two in what proved to be the final set, but Wilton outscored the Falcons 23-6 from that point on to secure the win.
Junior Kelsey Drake had a very efficient night for the Beavers, converting 12 of 17 kill attempts while also chipping in a half-dozen digs and going 4-for-4 serving.
Six different Beavers ended with multiple kills as junior setter Ella Caffery distributed 24 assists. Caffery also went for six digs and two aces while going 11-for-11 serving.
"This was important for us, it's been our goal all year long," Puffer said. "We came out on fire, our serving was aggressive and our offense was able to run ... It gives us a lot of confidence knowing we can rely on everybody to do their job."
Louisa-Muscatine (8-6) spent practically the entire night stuck in single digits, only getting to 10 in the second set after a Wilton block landed out of bounds, but by then the Beavers (30-3) had amassed a 24-10 lead and only needed a Carly Puffer kill on the next volley to take a two-set lead.
That was after the home side raced out to an 11-1 lead after a kill by freshman Kaylee Coss forced an L-M timeout. The Falcons, however, would only mange seven more points in the set.
"(Tonight was about) just making some minor adjustments and layering on some different looks and what to focus on, but mostly we just tried to stay in a rhythm," said Grunder. "I rarely carry 15 players, but to have everyone be so cohesive ... it's just a nice group of players I get to be around."
"They're a good team, once you get behind, you're in trouble" Louisa-Muscatine head coach Ken Spielbauer said. "I think they have a chance to win it all. They're well-coached and a good team."
Be the first to know
Get local news delivered to your inbox!